4 Tips for Christian Dating | Bianca Juarez Olthoff
4 Tips for Christian Dating | Bianca Juarez Olthoff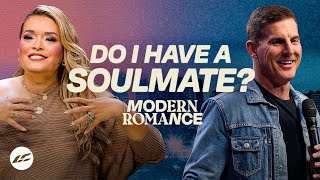 Did you know that nearly 50% of the Church is comprised of single people? In week 2 of Modern Romance, Pastor Bianca Juarez Olthoff has the Christian dating advice you're looking for because we're learning how to date for our soulmates.
ABOUT THIS MESSAGE
Relationships are complicated, but do they have to be? How do you know if your one is "the one"? Can a book as old as the Bible help relationships today? We're talking about being single, dating, marriage, and more in our new series, Modern Romance.
Learn more about Modern Romance: www.life.church/modernromance
Start the Modern Romance Bible Plan: www.go2.lc/modernromance
WE'RE OPEN
We're continuing to monitor guidelines and best practices for gathering in a safe way. Learn more about everything we're doing to keep you safe and how you can help by using hand sanitizer, washing your hands often, and more: https://www.life.church/updates
Find a time and attend a service with us: http://www.life.church/locations
NEXT STEPS
Have you made a decision to follow Jesus? You may be wondering what's next on your journey. We want to help! Let us guide you to your next steps in your walk with Christ: https://www.life.church/next
ABOUT LIFE.CHURCH
Wherever you are in life, you have a purpose. Life.Church wants to help you find your next step. Our hope is that your journey will include joining us at a Life.Church location throughout the United States or globally online at https://www.live.life.church. Find locations, videos, and more info about us at https://www.life.church or download the Life.Church app at https://www.life.church/app.
FIND US ON SOCIAL MEDIA
Facebook: http://www.facebook.com/life.church
Instagram: http://www.instagram.com/life.church
Twitter: http://www.twitter.com/lifechurch
CONNECT WITH PASTOR CRAIG
YouTube: https://www.youtube.com/channel/UCIIdiIO-Y20hRW9niR0CA8A
Facebook: http://www.facebook.com/craiggroeschel
Instagram: http://www.instagram.com/craiggroeschel
Twitter: http://www.twitter.com/craiggroeschel
The Concept of Soulmates – 00:00
Only God Can Make You Whole – 4:09
Date For Your Soulmate – 7:08
Power of Our Enemy – 12:50
Love Does Not Dishonor Others – 17:16
People Are Not Property – 22:05
#lifechurch #biancaolthoff #christiandating