Christian Bale Breaks Down His Most Iconic Characters | GQ
Christian Bale Breaks Down His Most Iconic Characters | GQ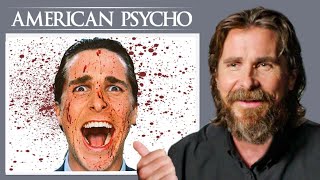 Christian Bale breaks down a few of his most iconic characters from 'American Psycho,' 'The Dark Knight' Trilogy, 'The Fighter,' 'The Machinist,' 'The Big Short,' 'Vice,' 'Empire of the Sun,' 'Amsterdam' and 'The Pale Blue Eye.'
Christian Bale will star in AMSTERDAM, in theaters October 7, 2022, and THE PALE BLUE EYE, premiering on Netflix on December 23, 2022.
00:00 Intro
00:25 American Psycho
04:53 The Dark Knight Trilogy
08:29 The Fighter
10:00 The Machinist
12:03 The Big Short
13:50 Vice
16:17 Empire of the Sun
19:01 Amsterdam
21:46 The Pale Blue Eye
Director – Graham Corrigan
Director of Photography – Brad Wickham
Editor – Graham Mooney
Talent – Christian Bale
Producer – Arielle Neblett
Associate Producer – Camille Ramos
Production Manager – James Pipitone
Production Coordinator – Jamal Colvin
Talent Booker – Dana Mathews
Camera Operators – Chris Alfonso and Matthew Dinneny
Audio – Rebecca O'Neill
Production Assistant – Kameryn Hamilton
Post Production Supervisor – Rachael Knight
Supervising Editor – Rob Lombardi
Post Production Coordinator – Ian Bryant
Assistant Editor – Andy Morell
Still haven't subscribed to GQ on YouTube? ►► http://bit.ly/2iij5wt
Subscribe to GQ magazine and get rare swag: https://bit.ly/2xNBH3i
Join the GQ Discord to talk men's fashion, watches, and more: https://discord.gg/gqmagazine
ABOUT GQ
For more than 50 years, GQ has been the premier men's magazine, providing definitive coverage of style, culture, politics and more. In that tradition, GQ's video channel covers every part of a man's life, from entertainment and sports to fashion and grooming advice. Welcome to the modern guide to style advice, dating tips, celebrity videos, music, sports and more.
https://www.youtube.com/user/GQVideos