Christian Aid Ministries gives update after 17 hostages released from Haiti
Christian Aid Ministries gives update after 17 hostages released from Haiti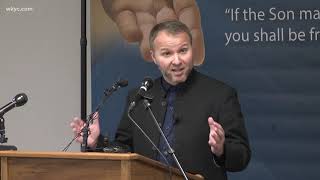 Christian Aid Ministries is giving an update at its headquarters in Ohio "to share more information" regarding the return of 17 hostages who were held in Haiti for weeks.
David Troyer, General Director of Christian Aid Ministries, confirmed the release of all 17 people last week on Dec. 16.
"Everyone, including the 10-month-old baby, the 3-year-old boy, and the 6-year-old boy, seem to be doing reasonably well," Troyer wrote on the Christian Aid Ministries site.
Full story: https://www.wkyc.com/article/life/faith/christian-aid-ministries-hostages-freed-haiti-ohio-update/95-8c69dd33-c6da-4578-9772-84aa28cf96ce