5 CHRISTIAN PARENTING TIPS | HOW TO RAISE GODLY CHILDREN | BIBLICAL PARENTING 2020
5 CHRISTIAN PARENTING TIPS | HOW TO RAISE GODLY CHILDREN | BIBLICAL PARENTING 2020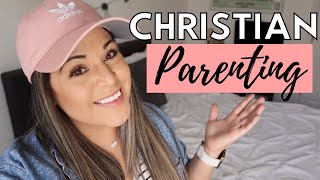 Get your Kids Faith Krate here: https://kidsfaithkrate.com/
have recently gotten so many questions on how I raise my kids as a Christian Mom. In today's video I go over 5 Tips on How to Raise Godly Children. I am a mom of a preschooler and two toddlers so it's been a journey to learn these skills with them. I know there are so many Christian Parenting Tips and Advice out there but I feel like these are too important not to share! I have been a Christian most of my life and when my husband and I decided to have children, I knew I was going to have to learn how to teach them to Love God with all their hearts. It's been a bumpy road learning and trying to figure out what works but these top 5 things will work for any child at any age:
1. Teach them to pray, and do it together
Its so important we don't just pray the same prayer to say that we prayed. We need to teach our kids that prayer is a lifeline. When we pray to God, we are talking to our creator, our father, and our best friend. This is our foundation to having a relationship with God.
2. Teach them to Praise and Worship
When we worship to God we are gaining His favor and entering into His environment. God loves it when we surrender our hearts and worship him. When our kids watch us do this especially consistently it shows them that is a great and normal way to build our relationship with God. We do this at least 5 times a week in our living room and every time we go for a car ride.
3. Teach them Bible Stories
Whether your child is a toddler or a teenager teaching them bible stories is a great way to build their faith. Child like faith is the best kind because they believe with all their hearts! Their eyes fill with awe and wonder when they hear of all of the amazing and miraculous things that God has done.
4. Do Bible Activities Together
Kids are so hands on and it truly helps them learn when you make the lesson more fun. Sometimes I have a hard time teaching my kids until I found kidsfaithkrate.com they have a monthly subscription box that has a craft and lesson every week. My kids have grown to love kids faith krate and they look forward to it every week!
5. Be Careful What You Allow Your Children to Watch
There are so many things I do not let my children watch. The main topic I mentioned in this video was about Witchcraft. We do not allow anything to do with witchcraft or Halloween in our house because when you do allow it, the devil now has a legal right to come into your home. It took me a couple of years into my walk with God to learn and fully understand about the supernatural world we live in. Once I received that revelation, my conviction soon followed. God revealed to me that it was wrong and we stopped allowing it into our home. I was so shocked at how many things my kids were watching that had witchcraft and evil thing hidden into the storyline. We as Christian Parents need to be very careful to watch what we allow into our children's eyes, ears, and hearts.
I hope you got something out of these 5 Christian Parenting Tips!
Thank you so much for coming along on these sweet moments with us! I hope you decide to be apart of our YouTube family and Subscribe to my channel! ❤
I hope you enjoyed watching this video! Make sure to connect with me on my other social media platforms!
S O C I A L –
Instagram – https://www.instagram.com/crystal.gonzalez.youtube
facebook – https://www.facebook.com/crystal.gonzalez.youtube
tiktok – @crystal.gonzalez.youtube
I'm a Stay at Home Mom of three little ones 5 and under. I've been here on YouTube for officially one year now and have tons of other mommy videos! Here are some of my favorite videos:
FIXER UPPER TOUR: https://youtu.be/uQmjQm5tnNk
DAY IN THE LIFE: https://youtu.be/bx20T2rOq50
MOTIVATIONAL: https://youtu.be/7cgxZoH-Nd0
*SOME OF MY FAVORITE AMAZON PRODUCTS*:
SUNGLASSES: https://amzn.to/2Yyi8XO
ADIDAS HAT (PINK&WHITE): https://amzn.to/2WxfHCi
BLACK COACH PURSE: https://amzn.to/3deAlxC
SHAMPOO & CONDITIONER : https://amzn.to/35AaPAq
WHITE COMFORTER SET: https://amzn.to/35uor01
LEOPARD SLIPPERS: https://amzn.to/2x8UQfO
PINK COFFEE TUMBLER: https://amzn.to/3eXOdhw
PLANNER : https://amzn.to/2VMR7g0
CUTE PEN SET: https://amzn.to/358cCfB
PLANNER STICKERS: https://amzn.to/2Y5CyXF
**For business inquiries email me at gonzalez.crystal1105@gmail.com**
***Equipment I use***
CAMERA – https://amzn.to/2WlLBS0
JOBY TRIPOD – https://amzn.to/2Wu3Pk7
AUDIO MIC – https://amzn.to/3b1dx2Y
TRIPOD – https://amzn.to/32ugfNy
GIMBLE – https://amzn.to/2CGlD5w
LIGHTING – https://amzn.to/3hbsbbq