Ref gets body slammed in wild youth basketball brawl * Baylor Basketball and Indiana Elite
Ref gets body slammed in wild youth basketball brawl * Baylor Basketball and Indiana Elite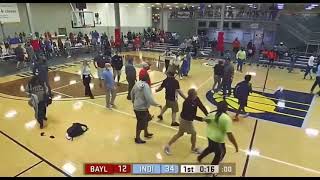 A high school girl's basketball game erupted into a violent brawl last weekend when an argument between one of the referees and a coach led to a heated blowout.
The official was caught on video throwing a punch at a spectator and a player before being body-slammed to the ground and then attacked by the player.
The incident took place during a tournament game between Baylor Basketball and Indiana Elite at the Pacers Athletic Center. According to the Indianapolis Star, Baylor's coach was arguing a call with one of the refs when she was given a technical foul, prompting her and her players to pick up their bags and leave the game.