How to Heal a Broken Heart after a Breakup // Christian Advice
How to Heal a Broken Heart after a Breakup // Christian Advice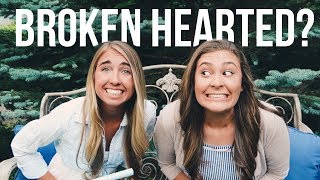 I'm sorry if you just went through a breakup and are broken hearted 🙁 BUT TAKE HEART!! God is in the business for HEALING especially HEALING your broken heart!! I hope this video will give you some good tips on HOW TO heal a broken heart after a breakup!
TIME STAMPS:
1. Don't go through it alone 0:50
2. TURN TO THE LORD 2:22
3. Replace thought with Scripture 4:20
4. Cut Soul Ties 5:24
5. Don't live in sadness forever… move on 6:51
6. Forgiveness 7:54
7. Closure 11:05
8. Look at the positives 14:45
C O N N E C T
COFFEE & BIBLE TIME WEBSITE: http://www.coffeeandbibletime.com
INSTAGRAM: https://www.instagram.com/coffeeandbibletime/
PINTEREST: https://www.pinterest.com/coffeebibletime/pins/
TWITTER: https://twitter.com/coffeebibletime
ASHLEY'S PINTEREST: https://www.pinterest.com/ashleyannkrause/
TAYLOR'S PINTEREST: https://www.pinterest.com/hopejoytaylor/
MAKE SURE YOU SUBSCRIBE IF YOU HAVEN'T YET! We post christian inspiration and christian advice videos weekly! We love being christian youtubers & spreading the love of Christ on this platform!