Christian Movies that Don't Suck
Christian Movies that Don't Suck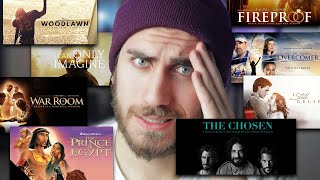 Become a Daily Disciple Club Member on Patreon: https://www.patreon.com/daily_disciple/
About the Club: This is a community of people that are passionate about Jesus and support my work in the ministry of Daily Disciple!
Club members are essential in our mission of helping people follow Jesus Daily! Daily Disciple reaches thousands of people with Gospel-centered content every single day, and that is made possible by our club members!
It's my goal to be able to work full-time on Daily Disciple and through your support, I'll get closer to that goal 🙂
Check out My Book: https://www.amazon.com/Letter-My-Father-Wants-Doesnt/dp/1525552341
Follow my Tiktok: https://www.tiktok.com/@itsisaacdavid/
Follow my personal Instagram: https://www.instagram.com/itsisaacdavid/
Follow our Ministry Instagram: https://www.instagram.com/dailydisciplemin/
Visit our website: https://www.dailydisciple.ca/
Business Inquiries: thedailydisciple@gmail.com
About Daily Disciple:
Daily Disciple is a ministry founded to help you follow Jesus Daily.
Whether you are already a passionate disciple of Christ or you just want to learn more about this Jesus thing, my goal is to authentically engage with our questions, struggles, and doubts as we seek to encounter Jesus in our daily lives.
I'm a 21-year-old guy and I don't know it all, not even close, but as we look in the scripture and talk through life issues and culture, my prayer is that you would move that much closer in relationship to Jesus.