Straightforward Career and Job Advice
Straightforward Career and Job Advice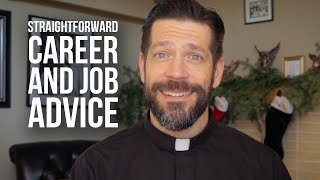 It's all too common for us to think of our work as either the thing that gives us our identity, or something to be avoided at all cost, or some unhealthy combination of those two misleading philosophies. In this video, Fr. Mike aims to bring inspiration to our everyday jobs by showing us how our labor can be a way to share in God's nature. By striving to look past humanity's brokenness and sin, we can move beyond seeing work as a burden, and see how every act of work has dignity.
Fr. Mike is also a presenter in these faith formation programs from Ascension:
Belonging: Baptism in the Family of God (http://bit.ly/2rdOFy7)
Chosen: This is Your Catholic Faith (http://bit.ly/2r32vUK)
Altaration: The Mystery of the Mass Revealed (http://bit.ly/2rIYjfE)
YOU: Life, Love and the Theology of the Body (http://bit.ly/2nKLug5)
Get 18 of Fr. Mike's best Ascension Presents videos in this exclusive DVD from Ascension:
Ascension Presents … Fr. Mike Schmitz (http://bit.ly/2sKUnJN)
Fr. Mike spoke at the Ascension Cafe during the World Meeting of Families. Watch him and other speakers get fired up over the gospel in the Ascension Cafe DVD (http://bit.ly/2sYtQaW).
MORE FROM ASCENSION:
Ascension Press main website: http://ascensionpress.com
Ascension Presents website: http://ascensionpresents.com
The Great Adventure Blog: http://biblestudyforcatholics.com/blog
SOCIAL MEDIA
Facebook: https://www.facebook.com/AscensionPress/
Twitter: http://twitter.com/AscensionPress
LinkedIn: https://www.linkedin.com/company/ascension-press
Instagram: http://www.instagram.com/ascensionpress/
Subscribe: https://www.youtube.com/c/ascensionpresents