FAV! Supernatural healing, miracle, Muslims accept Jesus, JP Moreland, Everyday Miracles Podcast
FAV! Supernatural healing, miracle, Muslims accept Jesus, JP Moreland, Everyday Miracles Podcast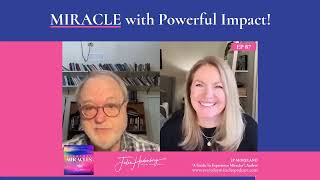 FAV Flashback with JP Moreland! Jesus appears to and heals a Muslim woman and her family plants 20 churches!
For full video:

Episode 87: A Simple Guide to Experience Miracles – Guest JP Moreland
Dr. JP Moreland is a brilliant thinker with a big heart for empowering others to see more of God's love and power in their lives. In this episode he shares two profound credible miracles and a completely documented near death experience from his new book, "A Simple Guide to Experiencing Miracles: Instruction and Inspiration for Living Supernaturally in Christ."
Also in this episode:
-Definition of a miracle.
-What are a few of the reasons people aren't healed with prayer?
-Why do we not see similar numbers of miracles in the Western world as compared to those being reported by missionaries overseas and in underground churches?
-What are some of the Biblical arguments for and against near death experiences?
-How can you determine when something is truly a miracle vs. coincidence?
-What are some of the ways we can increase our faith and see more miracles?
Dr JP Moreland is one of the leading evangelical thinkers of our day. He is a distinguished professor of philosophy at Talbot School of Theology and director of Eidos Christian Center. He has degrees in theology, chemistry and a PhD in Philosophy. He has written and co-authored an extensive list of books and publications, and has planted two churches, planted two Campus Crusade works, and has spoken on over 200 college campuses and in hundreds of churches. I am truly honored to have him as a guest on my podcast! Thank you, JP!
"For the kingdom of God is not a matter of talk but of power." 1 Corinthians 4:20
JP's website:
http://www.jpmoreland.com/
To buy JP Moreland's book:
https://www.amazon.com/Simple-Guide-E…
Padina's story (second miracle shared by JP):

Tom Doyle missionary info:
https://unchartedministries.com/about…
To contact Julie: everydaymiraclespodcast@gmail.com
http://everydaymiraclespodcast.com/
Facebook: http://everydaymiraclespodcast.com/
Instagram: https://www.instagram.com/everydaymir…