Psalm 23: The lord is my shepherd (Bible verses for sleep with God's Word)
Psalm 23: The lord is my shepherd (Bible verses for sleep with God's Word)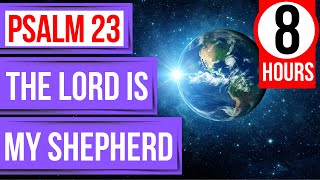 Psalm 23 Reading: The Lord is my shepherd: This Bible verses for sleep (KJV) video contains the "Psalm 23 Audio Bible." It's calmly read aloud with relaxing piano music to help you sleep if you have trouble falling asleep. Please let these "Psalms 23 Bible verse(s)" and peaceful scriptures for sleep dwell in your heart richly, renew your mind, and transform your life in Christ Jesus.
STREAM OR DOWNLOAD
●Spotify- https://open.spotify.com/artist/3PB0L4lXefHR12K6qV1QPp
●Apple Music- https://music.apple.com/us/artist/peaceful-scriptures/1451518307
●Amazon- https://geni.us/Amazon-PS
●Tidal- https://tidal.com/artist/10901529
●Deezer- https://www.deezer.com/en/artist/58268492
IMPORTANT LINKS:
🛍️Our Bible Verses Art Shop: https://geni.us/ps-shop
🎵Music Credit- https://geni.us/music1
We have looped these encouraging Bible verses for protection from Psalm 91, Psalm 27, and Psalm 18 into an 8-hour Audio Bible Christian meditation video to help our subscribers memorize it.
JOIN THE CONVERSATION
●Blessed by these life-changing scriptures from psalm 91 prayer for protection? Comment "Amen" below⬇
●Apart from these powerful psalms 91, psalms 27 and psalms 18 Bible verses shared in this video, do you have other psalms or scriptures that you've found helpful? Please tell us what they are in the comments.
●Lastly, be sure to share these Bible verses from the book of psalms with your friends and family.
God bless.
WHO WE ARE:
❤️"Peaceful Scriptures" is one of the Top Bible Verses Music Artists on YouTube, Spotify, iTunes, Amazon, Deezer, etc. Our mission is to encourage people everywhere to grow in the knowledge of God through His Word and prayer, by the help of the Holy Spirit, in Christ Jesus. We do this by creating and distributing soothing Audio Bible collections and Art Designs filled with Bible verses from the Word of God.
❤️In this channel, you will find videos filled with encouraging Bible quotes, healing scriptures, strength Bible verses, Bible verses for protection, Bible verses for anxiety, faith scriptures, sleep Bible verses, powerful psalms, psalm 91 prayer for protection, powerful prayers, and peace scriptures, just to name a few.
GET IN TOUCH:
📸Instagram: https://www.instagram.com/peacefulscriptures/
👍Facebook: https://www.facebook.com/peacefulscriptures/
🐦Twitter: https://twitter.com/p_scriptures
📌Pinterest: https://pinterest.com/peacefulscriptures/
#PeacefulScriptures #BibleVersesForSleep #SleepWithGod'sWord #powerfulpsalms