Beware Of Angels (2017) | Faith Christianity Movie | Documentary Movie
Beware Of Angels (2017) | Faith Christianity Movie | Documentary Movie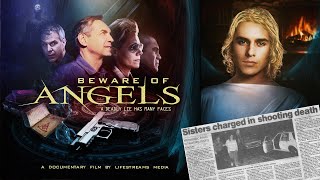 It started as a Bible study and ended in murder. The Halstead murder case is presented along with other true stories about supernatural beings manifesting as angels from heaven, spirits of the dead, ascended masters and aliens.
Começou como um estudo bíblico e terminou num assassinato. O caso do assassinato Halstead é aqui apresentado, juntamente com outras histórias verídicas sobre seres supernaturais se manifestando como anjos celestes, espíritos de mortos, mestres ascensionados, e ETs.
Comenzó como un estudio bíblico y terminó en asesinato. El caso del asesinato de Halstead se presenta junto con otras historias reales sobre seres sobrenaturales que se manifiestan como ángeles del cielo, espíritus de los muertos, maestros ascendidos y extraterrestres.
Es begann als Bibelstudium und endete mit einem Mord. Der Mordfall Halstead wird zusammen mit anderen wahren Geschichten über übernatürliche Wesen präsentiert, die sich als Engel vom Himmel, Geister der Toten, aufgestiegene Meister und Außerirdische manifestieren.