Christian movie – Inspirational / Motivational Quotes
Christian movie – Inspirational / Motivational Quotes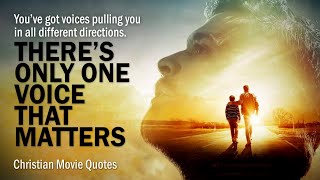 Having a list of Christian movies to watch is also great if you're looking to develop deeper into your faith or are looking for ways to explore certain topics that the Bible discusses. From word-for-word Bible adaptations that teach you about the life of Jesus. Here are some of the greatest faith-inspired quotes from some of our favorite movies.
"I would rather stand with God and be judged by the world, than stand with the world and be judged by God." – God's Not Dead 2
"You've got voices pulling you in all different directions. There's only one voice that matters." – Do You Believe?
"Although my memory's fading, I remember two things very clearly. I'm a great sinner and Christ is a great Savior." – Amazing Grace
"And if we win, we praise Him. And of we lose, we praise Him. Either way we honor Him with our actions and our attitudes." – Facing the Giants
"With the world so set on tearing itself apart, it don't seem like such a bad thing to me to wanna put a little bit of it back together." Hacksaw Ridge
"If you were accused of the crime of being a Christian, would there be enough evidence to convict you" – Do you Believe?
"I believe God made me for a purpose, but he also made me fast. And when I run I feel His pleasure'" Chariots of Fire
"To the wrong person you'll never have any worth, but to the right person you'll mean everything." – God's Not Dead
"Desperate times call for desperate measures, and there is no more desperate act than praying hard." Do you Believe?