Are There Jobs a Christian Can't Do?
Are There Jobs a Christian Can't Do?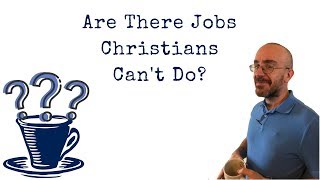 Are there jobs Christians can't do? What does the Bible say about providing for our families? Kevin Smith talks about this viewer's question today on "Questions Over Coffee."
We are the Church of Christ in Rock Springs, Wyoming. We know you have Bible questions. We want to provide short, simple, to the point Bible answers to questions like, "Why do Christians worship on Sundays?" or "Can Christians drink?" or "Should Christians celebrate holidays?" Why? So you can grow in your relationship with God and come to know Him better.
We plan to start posting videos soon. Currently, our goal is to post a new video every Monday at 3pm MST beginning in February 2018.
You can reach us at:
Mailing Address
P.O. Box 854
Rock Springs, WY 82901
Physical Address
100 Clearview Drive
Rock Springs, WY 82901
Follow Us…
Website: www.churchofchristrocksprings.squarespace.com
Facebook: https://www.facebook.com/RSCOC/
Thanks so much for visiting us. We'd love to have you subscribe! If you are in the area or passing through, please feel free to stop and meet with us!
COMMENT POLICY: We love reading all of your comments and answering as many of your questions as we have time for. Discussion is always welcome. However, this is a place for seeking God. Be civil. Comments with profanity, bullying, trolling or that degrade others will not be accepted.