Hope and Faith in Bible Verse (End Times) Second Coming
Hope and Faith in Bible Verse (End Times) Second Coming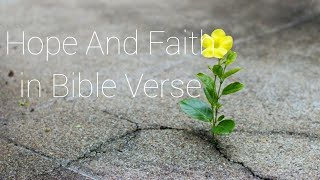 Life
Getting up in the morning,
I do my daily routine,
I Slept in the night,
This happened for many days,
Then days become months,
Alas! months became years.
Wait now need to think about my life,
Is my life different than others?
The answer is no,
All these years,
The only thing I was doing is running,
Some run behind Name,
Some run behind Fame,
Some run behind happiness.
Is life meant for this?
Ultimately, Graveyard is the reality.
Then who am I?
What is my identity in this infinite universe,
The answer is just a question mark,
Amazingly,
Human beings don't even know who we are,
and where do we stand?
In this infinite universe,
Yet have an unbelievable EGO,
In everything there is EGO,
I, me and myself..
People spend their entire life,
Running behind the factors
Such as Me and Mine.
Is it Worth it?
Bible teaches us,
Contentment,
God will provide, just depend upon him…
Actually, God wants us to be near him, through prayers.
Because Jesus has given his life for us,
We have been bought from his blood.
Again,
The truth about what is happening in this world,
No one is concerned, about Sin,
Am I living a sinful life?
Bible says :
Everyone sinned (1 John 1:10)
There was a stage where god regretted after making Humans (Genesis 6:6)
But It is also written :
God so loved the world, that he gave his only begotten son
so that whoever believes in him has eternal life.
We need only to repent from our Sins,
The time is near,
The kingdom of God is near,
Every knee will bow in front of Jesus.
Every knee will bow in front of Jesus.
– Prabha
https://goodmorningversesinthebible.blogspot.com/2021/03/hope-and-faith-in-bible-verse-end-times.html
______________________________________________________________________
#spiritual #faith #faithful #god #grace #pray #prayers #praying #amen #believe #religion #coexist #spirituality #trust #peace #calm #mind #soul #hope #destiny #wisdom #compassion #forgiveness #thankful #knowledge #meditation #life #meditate #guidance#truth #pinquotes #advicequotes #reality #quoteoftheday #quotes #quote #quotesdaily #quotestoliveby #twelveskip #instadaily #reminder #instaquote #lifeiswhatyoumakeit #staystrong #bibleverses #spiritualinspiration #bibleinspiration #from #verses #dailybibleverses #bibleversesdaily #bibleversesoftheday , #wwmotivationandinspiration #dailyinspirationmotivation #motivationalquotes #inspirationalquotes #mondaymotivation #weddinginspiration
#spirituality #motivational #inspirational #styleinspiration #motivationmonday , #designinspiration #morningmotivation
End Times Prophecy, Second coming, good morning verses in the bible , encouraging bible verses , inspirational bible quotes , quotes about life biblical , inspirational bible verses , motivational bible quotes , motivational bible verses , jesus quotes inspirational , encouraging bible quotes , daily quotes from bible , positivity inspirational bible quotes , positive bible quotes , short inspirational bible verses , motivational jesus quotes , inspirational bible quotes for birthdays , christian motivational quotes , inspirational morning bible verses , inspirational bible verses about strength , words of encouragement from the bible , bible beautiful quotes , encouragement inspirational bible verses , positive bible verses , short encouraging bible verses , strength motivational bible verses , biblical inspirational quotes , spiritual encouragement quotes , motivation inspirational bible verses , encouraging christian quotes , jesus positive quotes , inspirational strength bible quotes , verses of encouragement , meaningful bible verses , nice bible verses , words of encouragement from god , inspirational bible verses about faith , inspiration from bible , religious inspirational quotes , words of encouragement from the bible for youth , religious motivational quotes , inspirational bible verse of the day , motivational words from the bible , the most powerful bible verses , bible verse of the day encouragement , bible verse whatsapp dp , encouraging youth bible verses , biblical motivational quotes , motivational bible verses for youth , inspirational words from the bible , inspirational bible verse for today , inspirational bible quotes about faith , inspirational marriage quotes bible , motivational bible verses about life , god's inspired word , inspirational faith bible quotes , scriptures of encouragement , motivational verses , inspirational bible verses for kids , inspirational verse of the day , inspirational bible stories for youth , inspirational quotes bible verses , encouraging god quotes , short inspirational bible quotes , inspiration biblical good morning messages , inspirational best bible verses , bible motivation , positive religious quotes , biblical encouragement quotes , inspirational bible quotes about life , verse of the day encouragement , inspiration of god , jesus encouragement quotes , inspirational verses ,