The Right's Fight to Make America a Christian Nation | CBS Reports
The Right's Fight to Make America a Christian Nation | CBS Reports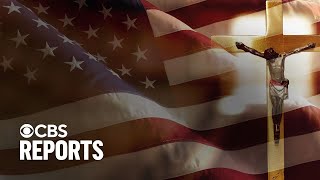 Freedom of religion is enshrined in the U.S. Constitution. But the role that religious beliefs should play in public life has never been more contentious. As part of the Speaking Frankly series, this CBS Reports documentary explores the fusion of faith and politics in a movement that envisions the U.S. as a Christian nation.
Watch more documentaries and CBS News Specials that take a deep dive into the key issues driving the national and global conversation here: https://www.cbsnews.com/cbs/reports/
CBS News Streaming Network is the premier 24/7 anchored streaming news service from CBS News and Stations. It's your destination for breaking news, live events, original storytelling and programs from CBS News and Stations' top anchors and correspondents working locally, nationally and around the globe.
Subscribe to the CBS News YouTube channel: http://youtube.com/cbsnews​
Watch CBS News: http://cbsn.ws/1PlLpZ7c​
Download the CBS News app: http://cbsn.ws/1Xb1WC8​
Follow CBS News on Instagram: https://www.instagram.com/cbsnews/​
Like CBS News on Facebook: http://facebook.com/cbsnews​
Follow CBS News on Twitter: http://twitter.com/cbsnews​
Subscribe to our newsletters: http://cbsn.ws/1RqHw7T​
Try Paramount+ free: https://bit.ly/2OiW1kZ
For video licensing inquiries, contact: licensing@veritone.com