East Point woman killed by a man she was trying to help, family says
East Point woman killed by a man she was trying to help, family says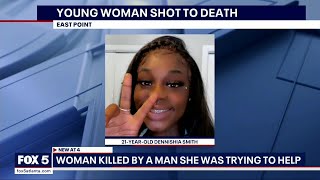 21-year-old Dennishia Smith was shot and killed by a man her family says she was trying to help. Authorities say they arrested and charged Shelton Handspike with one count of murder.
Subscribe to FOX 5 Atlanta!: https://bit.ly/3vpFpcm
Watch FOX 5 Atlanta Live: https://www.fox5atlanta.com/live
FOX 5 Atlanta delivers breaking news, live events, investigations, politics, entertainment, business news and local stories from metro Atlanta, north Georgia and across the nation.
Watch more from FOX 5 Atlanta on YouTube:
FOX 5 News: https://www.youtube.com/playlist?list=PLUgtVJuOxfqkmrF1fONNmi8nKI0Z-FPE-
FOX 5 Atlanta I-Team: https://www.youtube.com/playlist?list=PLUgtVJuOxfqlb_I16wBwizoAoUsfKEeWB
Good Day Atlanta: https://www.youtube.com/playlist?list=PLUgtVJuOxfqlKT5xsbsPFgr5EBzdsWTvG
FOX 5 Extras: https://www.youtube.com/playlist?list=PLUgtVJuOxfqli-5MS_2X-i6bNGWvV0RYP
You Decide: https://www.youtube.com/playlist?list=PLUgtVJuOxfqnCKb7UkRde2NXuaoPEAXut
Download the FOX 5 Atlanta app: https://www.fox5atlanta.com/app
Download the FOX 5 Storm Team app: https://www.fox5atlanta.com/storm
Follow FOX 5 Atlanta on Facebook: https://facebook.com/fox5atlanta
Follow FOX 5 Atlanta on Twitter: https://twitter.com/FOX5Atlanta
Follow FOX 5 Atlanta on Instagram: https://www.instagram.com/fox5atlanta/
Subscribe to the Morning Brief and other newsletters from FOX 5 Atlanta: https://www.fox5atlanta.com/email