This Christian Website Gives Awful Relationship Advice
This Christian Website Gives Awful Relationship Advice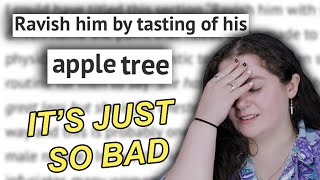 https://lelo.to/Annamarie-SILACruise
today, we'll be taking a look through a christian website called biblical sexology. the "advice" is presented under the guise that it's meant to help christians with intimacy in their marriages. but it's really just thinly-veiled misogyny with a side of manipulation, all under the name of jesus! how fun!
0:00: intro
3:38: sponsor
5:43: 10 rules of sex for wives
15:37: a biblical guide to ravishing your husband
22:43: why christian wives should "fake it"
27:42: reflection
29:12: it's over [thank the lord(e)]
resources/links to support ab*se victims:
RAINN: https://www.rainn.org/
Love is Respect: https://www.loveisrespect.org/
Her Justice: https://herjustice.org/
Joyful Heart Foundation: https://www.joyfulheartfoundation.org/
1in6: https://1in6.org/
Amani Community Services: https://www.amani-cs.org/services/
Arab-American Family Support Center (AAFSC): https://www.aafscny.org/
Center for Pacific Asian Family: https://nurturingchange.org/
Centro Multicultural la Familia: https://www.centromulticultural.org/
sources used:
https://definitions.uslegal.com/m/marital-rape/
https://www.ashleyeaster.com/blog/infantilization-of-women
https://www.healthcentral.com/article/pain-killing-powers-of-orgasm
……………………………………………………………………………
watch my last video!: https://youtu.be/cuAKcz41pQo
do u have something u want me to react to? lmk here!: https://forms.gle/V58goHUJAx6bKNLRA
twitter: https://twitter.com/ann_forcino
instagram: http://instagram.com/annamarieforcino
photography instagram: http://instagram.com/amf.jpeg
business email (serious inquiries only): annamarie@doubleplayprojects.com
i do not own the music/clips in this video, so pls don't sue me!
outro song:
Biscuit (Prod. by Lukrembo): https://www.youtube.com/watch?v=EtZ2m2Zm3vY&list=PLp5YDDLUttcgAsy4not040O_8TLZuX5F6&index=8
subscribe: https://www.youtube.com/annamarieforcino
#BiblicalGenderRoles #BiblicalSexology #Commentary