Getting ready for marriage! | Christian Marriage Advice
Getting ready for marriage! | Christian Marriage Advice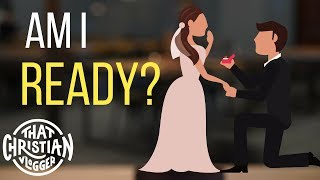 Special thanks to Derrick & Marlee for their take on how to know if you're ready to get married! The two of them are actually getting prepared to be missionaries in Cambodia! Follow their journey at https://www.youtube.com/channel/UCNzDX9w_kNm421g1T1XxrJQ
What would you add to the discussion on getting ready for marriage? Any key tips or suggestions?
Today we tackle the question, "How do I know I'm ready for marriage?"
My FREE How to Study the Bible Course: https://goo.gl/XQN6NJ
Subscribe for more videos!
► Support on Patreon: https://goo.gl/kjdSYh
► My Website: https://goo.gl/rLtYrZ
Support this channel by doing a FREE 30 day audible trial by visiting https://www.audibletrial.com/thatchristianvlogger and receive a FREE audiobook!
Twitter @jkhoe
Instagram @jkhoe
Snapchat @justinkhoe
https://www.facebook.com/godhasgiventruly
► Emily's Blog: https://goo.gl/BuBDzj
For free Bible Study Guides check out https://goo.gl/zGiLVX
For business inquiries, email justin@thatchristianvlogger.com