Christian Lawyers Discuss Their Work
Christian Lawyers Discuss Their Work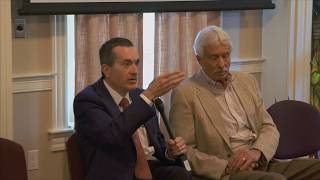 Professional lawyers talk about how the Christian faith shapes their work, and Sean McDonough offers a biblical insight into the practice of law from Luke 10:25-29. This video is part of the "Jesus And Your Job" video series. The entire series is available for free at www.theologyofwork.org/jesusjob
DISCUSSION QUESTIONS:
1) In Luke 10:25-29 Jesus contrasts a narrow interpretation of the law with a broader understanding of the law's intent. In your work do you struggle with narrow interpretations verses broader understanding?
2) Myron debated whether to go into law or Christian ministry. Did you ever go through a similar debate? How did your faith affect your career choice?
3) Alvin's faith leads him to focus on relationships with his clients. How are relationships important in your work?
For more free resources to help you connect your work with God's purposes, visit www.theologyofwork.org