My Husband Wants a Divorce, What Do I Do?
My Husband Wants a Divorce, What Do I Do?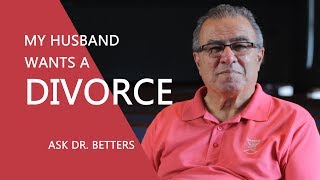 Resources on Same Sex Attraction: https://www.markinc.org/help-and-hope?category=Same+Sex+Attraction
In this episode, Dr. Betters answers the question, "I have been married for 28 years and we have 3 children in their 20's. We've had a good marriage and I would say my husband was my best friend but a little over a year ago he came to me and said he wanted a divorce, that he had been lying to himself and basically to me our whole marriage and that he was gay and didn't want to hide it anymore. My world shattered as I tried to understand how I could have been so blind, how I could have spent all these years with this man and he was really always attracted to men. I've been going to counseling and am thankful that my church family has rallied around me but I'm still feeling like there is a hole in my soul. I found your videos and hoped you would help me figure out how to feel whole again."
For more "Ask Doctor Betters" episodes visit: http://markinc.org/ask-dr-betters/
"Ask Doctor Betters" is video series where every Monday Dr. Charles F. Betters answers questions on suffering and the sovereignty of God in 5-8 minutes.
"Ask Doctor Betters" also available as an iTunes Podcast:
"Ask Doctor Betters" is produced by MARKINC Ministries (www.markinc.org). MARKINC Ministries' mission is to bring the help and hope of the Gospel to people who are hurting. Be sure to check out our other three resources:
1) "Help and Hope" audio resources. The "Help and Hope" resources focus on one person's redemptive story and how their faith guided them to a place of embracing the truth that God is sovereign and we can trust Him. These resources can be found on our website (http://markinc.org/help-and-hope/) or on our "Help and Hope" iTunes Podcast (https://itunes.apple.com/us/podcast/help-hope/id1147787051?mt=2)
2) "In His Grip" sermon resources. Here you can find the the preaching ministry of Dr. Betters (http://markinc.org/sermons/).
3) "Treasures of Encouragement" blog. Treasures of Encouragement is the teaching ministry of Sharon Betters, Dr. Better's wife. Treasures of Encouragement challenges women to think biblically and live covenantally through the intentional practice of biblical encouragement in their homes, churches, neighborhoods, and workplaces (http://markinc.org/treasures-of-encouragement-blog-2/).
To donate to MARKINC Ministries and help us create more helpful resources, please donate at: http://markinc.org/giving/