Healing After Infidelity, 3 Things You Need To Overcome Infidelity | Couple Q&A | Christian Marriage
Healing After Infidelity, 3 Things You Need To Overcome Infidelity | Couple Q&A | Christian Marriage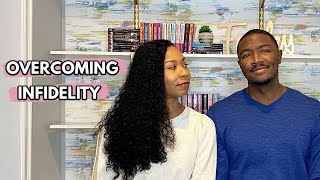 Betrayal in marriage happens. So what do you do if your husband cheats? What happens if you are also leaders in your church? How do you overcome infidelity and heal from the betrayal? My husband and I will answer these questions to help you and one subscriber who sent in this question. While also giving 3 things you need to rebuild trust after infidelity.
✨Join the Beyond Committed Community, https://beyondcommitted.com/subscribe/ ✨
Get your FREE copy of the 21 Affirmation Cards for Wives 👇🏽
✨ LET'S STAY CONNECTED ✨
WEBSITE: https://beyondcommitted.com
INSTAGRAM: https://www.instagram.com/beyondcommitted/
FACEBOOK: https://www.facebook.com/iambeyondcommitted
TWITTER: https://twitter.com/beyondcommitted
PINTEREST: https://www.pinterest.com/beyondcommitted
EMAIL: hello@beyondcommitted.com
✨ NEW VIDEOS EVERY WEDNESDAY! ✨
Do you have a question that you want answered? A situation you want insight on? Or a topic you would want to hear about? Submit them here ☞ https://beyondcommitted.com/youtube-questions-topics/
Marriage is hard. Marriage takes work. Being faithful over the years may not be easy. So when that trust is broken and you need to rebuild your trust and your marriage, you need to tools, strategies, and support as a wife and in your marriage
✨Hey I'm Ayanna! If you want to be inspired, encouraged, & want opportunities to grow as a woman, a wife, and/or a mom you have come to the right place! My channel is all about inspiring, encouraging, equipping & empowering you to be the clear, confident, and connected woman God created you to be while having some fun along the way.