Big Bear Bald Eagle Live Nest Cam
Big Bear Bald Eagle Live Nest Cam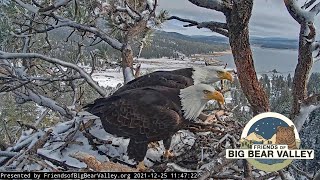 This live feed is owned and operated by Friends of Big Bear Valley, a 501c3 nonprofit organization. Any public use of the live video, including screen captures, requires prior approval and credit to the organization. Thank you for your consideration!
🔵Wide View Cam (Cam 2): https://youtu.be/Xx0nese3zL8
What's happening at the nest:
Congratulations, Jackie and Shadow! 🥚Egg1 is laid 1/22 15:43. Egg2 is laid 1/25 15:43. Pip watch begins on 2/26
🗨Chat Hours: Monday – Saturday 8:00 to 20:00 cam time. Chat is closed on Sunday. During off-hours, the system message will say that only subscribers of 5 years (i.e. moderators) may comment.
Big Bear Valley's current weather conditions: http://www.bensweather.com/
To see the history of the Big Bear Eagles:
Detailed History: https://friendsofbigbearvalley.org/eagles/eagle-history/
Quick Reference: https://friendsofbigbearvalley.org/eagles/reference-guide/
FriendsofBigBearValley.org https://friendsofbigbearvalley.org/
To Donate: https://friendsofbigbearvalley.org/donate/
Visit our Facebook page at: https://www.facebook.com/Friends-of-Big-Bear-Valley-and-Big-Bear-Eagle-Nest-Cam-705508029491602
Visit our interactive sister Facebook group at:
https://www.facebook.com/groups/531281757566020
About the nest: The nest is located at Big Bear Lake, California. It is about 145 feet up in a Jeffrey Pine tree. The nest is the current home for Jackie and Shadow, a local bald eagle pair.
Q-How do you tell Jackie and Shadow apart? A-Jackie is larger than Shadow. Jackie's beak is both longer and thicker from top to bottom than Shadow's.
Q-How old are the eagles? A-Jackie is 10, Shadow is 8.
Q-How can the eagles handle the cold temperatures, snow and rain? A-Bald Eagles are well equipped to handle harsh weather conditions. They have down feathers against their skin that can hold in the heat their bodies generate. On top of the down, they have approximately 7000 waterproof feathers that can keep the wet and cold out and also helps keep the heat inside.
Q-Where do the eagles sleep at night and does the light bother them? A-During nesting season, Jackie the female sleeps in the nest, Shadow sleeps perched in a tree nearby in case he is needed. The light at the nest is an infrared light, this light cannot be seen by the eagles or humans. It is only picked up by the camera, which enables us to view the nest at night. In the off season, both eagles sleep perched in trees within their territory.
🗨Chat Guidelines
Thank you for taking an interest in our Big Bear Bald Eagle family. We hope you enjoy your viewing and chat experience. Please remember to always follow the chat guidelines below. This is a view into the everyday life of wild bald eagles and the nature that surrounds them.
🤖Chatbot commands: You can request weather information by typing !weather or !radar
1. The main topic is the Big Bear Eagle family and the surrounding ecosystem. Please do your best to stay on topic.
2. Be kind, polite and respectful. No profanity, personal attacks, or harassment.
3. Be respectful to eagles*, nature and all animals. The exact location of the nest, local landmarks, and camera placement are not disclosed to protect the eagles.
4. This is a public chat. The following content is considered inappropriate: politics, religion, sexual content, adult substances, personal info (locations, health issues etc.). We care about your safety.
5. Please be mindful about posting "Roll Calls": soliciting responses from chatters (eg. where is everyone from?). Roll calls result in numerous responses and can fill the chat queue quickly.
6. No spam or solicitation. Please do not post in all caps or repeated characters, letters, symbols or emojis (the limit is 4).
7. Avoid drama. Please refrain from creating panic in chat based on rumors or speculations. We all have a responsibility to keep the chat information factual.
8. For the benefit of all, please type in English. We are a global community, and a single language helps us to understand each other. If needed, please use Google translate: https://bit.ly/3tJx2bf
9. When an inappropriate comment is posted, please do not engage; let the moderator handle the situation.
10. Respect the chat moderators and their decisions. If you have concerns, please email FOBBV through the "Contact Us" form on the website.
11. Please make sure that your avatar and nickname adhere to the above guidelines before posting.
*Bald Eagles are protected by the Federal Bald and Golden Eagle Protection Act, Migratory Bird Treaty Act, Lacey Act and by the California Endangered Species Act.