A Perfect Chord // english christian film/movie
A Perfect Chord // english christian film/movie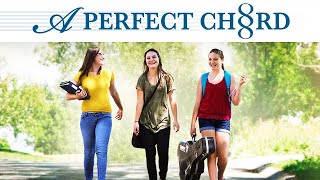 A Perfect Chord is an inspiring film about overcoming fears, living up to expectations, and using one's gifts and talents to inspire others. Cadence (Malia Flack) has an incredible gift for music, but she also has an extreme fear of the stage that has kept her from performing for anyone but her best friend, Lizzy (Avery Noel). Meanwhile, Mika (Elina Odnoralov) struggles with the weight of expectations that come from being born into a musical family and wrestles with the style of music her heart yearns to play. Featuring an original motion picture soundtrack, A Perfect Chord is sure to encourage you to pursue your dreams.
A film about overcoming fear, living up to expectations, the power of friendship and using one's gifts and talents to inspire others.
Directors: Nathan Blair, Joseph Bachor (co-director)
Writer: Nathan Blair
Stars: Malia Flack, Avery Noel, Elina Odnoralov
——————————————————————————
JOIN THE JOURNEY by subscribing if you haven't done so already & don't forget to ring the bell to be notified whenever there is a new video to watch!! You can use this link right here:
SUBSCRIBE: http://www.youtube.com/c/DeYeshuaMusic​
Here are a few other good movies to watch
1. Faith like potatoes – https://youtu.be/5pN9qkIDK-w​
2. Lukewarm – https://youtu.be/tlZpju2RQmw​
3. Do you believe – https://youtu.be/BnGXNEkNrMk​
Our recomended movie playlist – https://youtube.com/playlist?list=PL0…​
——————————————————————————-
We really hope this was a blessing to you! If so, please LIKE and SHARE it with the people in your life who you think would also enjoy it!
And as always, feel free to leave your thoughts & testimonies below in the comment section of how you have been touched through this song… We love hearing from you all. 🙂
——————————————————————————-