Things We've Learned in Our First Year of Marriage! || Christian Newlywed Advice
Things We've Learned in Our First Year of Marriage! || Christian Newlywed Advice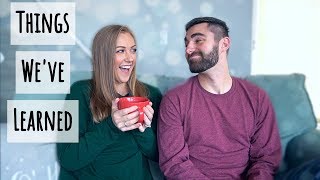 Here's our top 5 things each of what we've learned in our first year of marriage!!
I hope you guys enjoy this video, it was really good for us to be able to look back and think of all the things we didn't expect and all the things God has been teaching us through marriage. It has been a very challenging and wonderful thing for both of us and we are so grateful!
We've been married a little over a year, and I think it would be super fun to do one of these videos every year and see what new or challenging things we learned throughout the years, cause we will NEVER be done growing!
We take our marriage vows very seriously, but we are still sinners and will have so many things to work on throughout the years.. we're just happy we get to do it WITH each other! Marriage is SUCH a gift, you guys!
Any video requests for us?!
Leave them down below!
instagram // https://www.instagram.com/_kendrachristine/
email // kendrachristinexx@gmail.com
goodreads // https://www.goodreads.com/user/show/95582502-kendra-christine
Much love,
Kendra (& Nick)