Growing Calls For One World Government In Response To Virus Outbreak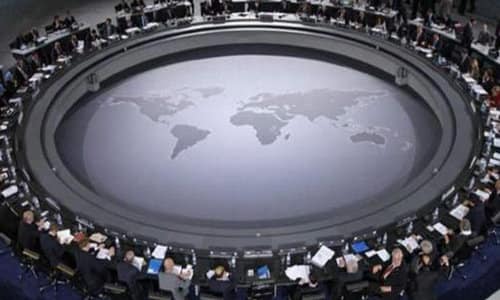 Former UK Prime Minister Gordon Brown has called on world leaders to form a "temporary" global government in response to the coronavirus pandemic.
The ex Labour prime minister, stressed the need for a task force comprised of world leaders, health experts as well as leaders of the international organisations that could have executive powers to execute the response.
Brown would like to see the G20 lead this charge in co-operation with the UN Security Council while giving more resources and power to the International Monetary Fund and the World Bank.
The G20 is made up of 19 countries and the European Union. The 19 countries are Argentina, Australia, Brazil, Canada, China, Germany, France, India, Indonesia, Italy, Japan, Mexico, the Russian Federation, Saudi Arabia, South Africa, South Korea, Turkey, the UK and the US.
"This is not something that can be dealt with in one country," he said. "There has to be a coordinated global response."
Highlighting the differences between the 2008 economic collapse that he dealt with and the current crisis, Brown added "This is first and foremost a medical emergency and there has to be joint action to deal with that. But the more you intervene to deal with the medical emergency, the more you put economies at risk."
Many countries have announced economic packages in the past two weeks but Brown said a taskforce could: make sure the efforts of central banks were coordinated; take steps to prevent the record flight of capital from emerging market economies; and agree a joint approach to the use of government spending to boost growth.
Brown said there had been resistance in 2008 to using the G20 as a vehicle for tackling the financial crisis, but that it should be clear to world leaders that there was no possibility of a go-it-alone approach working.
"We need some sort of working executive," Brown said. "If I were doing it again, I would make the G20 a broader organisation because in the current circumstances you need to listen to the countries that are most affected, the countries that are making a difference and countries where there is the potential for a massive number of people to be affected – such as those in Africa."
Nigel Farage, the leader of the Brexit Party, took exception to the former Labour Prime Minister's advocacy for a world government. 
"Gordon Brown doesn't get it," he tweeted. "Globalisation is the cause of our problems, not our saviour."
English writer Laurence England found Brown's advocacy more disturbing than naive. 
"Gordon Brown does get it," he tweeted in response. "The One World Government is about sheer power over populaces, not about helping people. They want a world of slaves. He was a key Bilderberg attendee." 
The Bilderberg meetings have been used as a forum for world elites since 1954 to further their vision for the world but no one is allowed to reveal who said what. 
At the 2009 London Summit for the G20, Brown said, "I think the new world order is emerging, and with it the foundations of a new and progressive era of international cooperation."
Christian prophecy experts have long warned that the Book of Revelation reveals the eventual formation of a one world government. Will the coronavirus be a stepping stone to the fulfillment of that prophecy?  Or is a much larger event to happen known as "The Rapture" going to make the coronavirus look like a blip on the radar?
Today, researchers in the Middle-East have rediscovered ancient anthropological evidence from the time of Christ that reveals exactly how and why the Rapture must occur; unveiling new biblical insight that will reignite hope for believers in these difficult times and prepare the world for what's coming ahead.
This research is presented in a powerful new film called "Before The Wrath", narrated by Kevin Sorbo (God's Not Dead, Hercules) and includes some of today's top top Bible prophecy experts such as Jack Hibbs, Jan Markell, Amir Tsarfati, & J.D. Farag
https://www.prophecynewswatch.com/article.cfm?recent_news_id=3933