Best Christian Movies Based on True incredible Stories | A Must watch for every Christian | LOCM
Best Christian Movies Based on True incredible Stories | A Must watch for every Christian | LOCM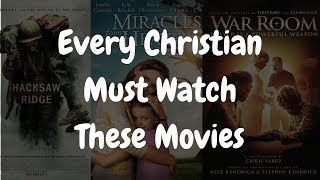 New best must watch movies for every Christians.
War Room:
The Jordan family looks ideal on the surface, yet has many cracks underneath. When Miss Clara observes this, she tries to guide them and help them unite again with the help of prayer.
War Room Movie : http://amzn.to/2u5PRIT
Miracles from Heaven:
Ten-year-old Anna, who suffers from a rare disorder, begins healing miraculously after an incident, surprising everybody around her.
Miracles from Heaven movie: http://amzn.to/2t6mFNB
Hacksaw Ridge:
The true story of Pfc. Desmond T. Doss (Andrew Garfield), who won the Congressional Medal of Honor despite refusing to bear arms during WWII on religious grounds. Doss was drafted and ostracized by fellow soldiers for his pacifist stance but went on to earn respect and adoration for his bravery, selflessness and compassion after he risked his life — without firing a shot — to save 75 men in the Battle of Okinawa.
Hacksaw Ridge The True Story of Desmond Doss books: http://amzn.to/2tAgqW2
Hacksaw ridge Movie: http://amzn.to/2u5MdyF