What is Christian Science?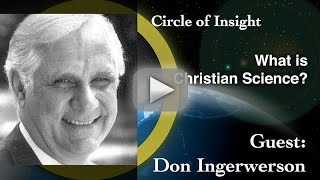 Join Dr. Carlos as he explores what Christian Science is with Don Ingerwerson. Hi, I'm Don Ingwerson! I blog on the importance of the link between thought, spirituality, and health. You can find my articles in a number of outlets, including Southern California Spanish media. I serve the public through this blogging and previously served the public in the education sector where I was the Superintendent of Schools in Louisville, Kentucky and Los Angeles County Superintendent in California. I've been honored as the National Superintendent of the Year for America where I was able to meet former President George H. W. Bush in a ceremony at the White House. Another honor I received was from the Governor of Kentucky, who named a state day after me, for the improvements I made in education for Kentucky.
Right now I am the media and legislative liaison for Christian Science in the Southern California region. I have also served as prison chaplain and while in the military I served as a Christian Science chaplain's assistant.
For more psychology videos related to spirituality, please visit:
-~-~~-~~~-~~-~-
Please watch: "Cluster C Personality Disorders Information(Obsessive-Compulsive, Avoidant, Dependent)"

-~-~~-~~~-~~-~-