Bible Verses About Mothers | Special Scriptures For Mother's Day | Bless Your Mom
Bible Verses About Mothers | Special Scriptures For Mother's Day | Bless Your Mom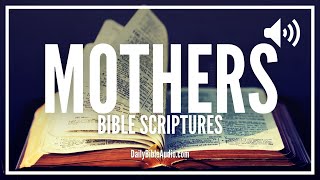 Bible Verses About Mothers | Special Scriptures For Mother's Day | Bless Your Mom
https://www.dailybibleaudio.com
☑️ SUBSCRIBE and click the 🔔 for notifications to catch all the latest videos uploaded to the channel!
https://www.youtube.com/channel/UCL5xC4sFNGH-u-iBftrPSYA?sub_confirmation=1 👈
☑️ You can SUPPORT and PARTNER with my ministry here (Daily Effective Prayer, Daily Bible Audio, Motivation In Christ):
http://bit.ly/depytsupport 👈
📲 SOCIAL
TWITTER: https://twitter.com/dailybibleaudi1
FACEBOOK: https://www.facebook.com/dailybibleaudio
INSTAGRAM: https://www.instagram.com/dailybibleaudio
Bible Verses About Mothers | Scriptures For Mother's Day
This is simply a video I've put together where I would like to encourage anyone with the Word of God within the sound of my voice.
You can adjust the speed of the video in the playback settings.
All I ask you to do is to listen to me read the Word of God or turn off the audio and read it for yourself.
Please continue to let God's Word take root in your heart.
Speak God's Word daily or listen to this video over and over again and allow the Scriptures concerning this video topic to reach deep into your spirit.
The KJV Bible is a public domain works that I have uploaded primarily for myself to be able to play and listen to in the background but also to pass along to others seeking the divine Word of God.
The Bible never, ever fails.
God bless you!
– Daniel (Channel Creator)
✩ Bible Verses About Mothers:
Strength and honour are her clothing; and she shall rejoice in time to come.
Proverbs 31:25 | KJV
Her children arise up, and call her blessed; her husband also, and he praiseth her. Many daughters have done virtuously, but thou excellest them all.
Proverbs 31:28-29 | KJV
Children's children are the crown of old men; and the glory of children are their fathers.
Proverbs 17:6 | KJV
21 A woman when she is in travail hath sorrow, because her hour is come: but as soon as she is delivered of the child, she remembereth no more the anguish, for joy that a man is born into the world.
John 16:21 | KJV
For thou hast possessed my reins: thou hast covered me in my mother's womb. I will praise thee; for I am fearfully and wonderfully made: marvellous are thy works; and that my soul knoweth right well.
Psalm 139:13-14 | KJV
For this child I prayed; and the Lord hath given me my petition which I asked of him: Therefore also I have lent him to the Lord; as long as he liveth he shall be lent to the Lord. And he worshipped the Lord there.
1 Samuel 1:27-28 | KJV
And now abideth faith, hope, charity, these three; but the greatest of these is charity.
1 Corinthians 13:13 | KJV
But let it be the hidden man of the heart, in that which is not corruptible, even the ornament of a meek and quiet spirit, which is in the sight of God of great price.
1 Peter 3:4 | KJV
I have no greater joy than to hear that my children walk in truth.
3 John 1:4 | KJV
Hearken unto thy father that begat thee, and despise not thy mother when she is old. Buy the truth, and sell it not; also wisdom, and instruction, and understanding. The father of the righteous shall greatly rejoice: and he that begetteth a wise child shall have joy of him.
Proverbs 23:22-24 | KJV
Lo, children are an heritage of the Lord: and the fruit of the womb is his reward.
Psalm 127:3 | KJV
My son, hear the instruction of thy father, and forsake not the law of thy mother: For they shall be an ornament of grace unto thy head, and chains about thy neck.
Proverbs 1:8-9 | KJV
Deuteronomy 4:9 | KJV
1 Corinthians 13:4-7 | KJV
Galatians 5:22-23 | KJV
Proverbs 19:26-27 | KJV
Matthew 15:4-6 | KJV
Ephesians 6:1-3 | KJV
✩ Watch More Daily Bible Audio Videos Below:
Scriptures About Business Success | Prosperity Bible Verses For Business

Bible Verses For Today | 12 Scriptures To Make Today Amazing

Scriptures For Relationship Issues | Bible Verses For Less Stress, More Joy In Your Relationships

© Copyright DailyBibleAudio.com
✩ King James Version Information / Copyright Information
In 1604, King James I of England authorized that a new translation of the Bible into English be started. It was finished in 1611, just 85 years after the first translation of the New Testament into English appeared (Tyndale, 1526). The Authorized Version, or King James Version, quickly became the standard for English-speaking Protestants. Its flowing language and prose rhythm has had a profound influence on the literature of the past 400 years. The King James Version present on this channel matches the 1987 printing. The KJV is public domain in the United States and Canada.
#mothersday #bibleverses #scriptures#audiobible #kingjamesversion #kjvbible #kjvaudio