30+ Bible Verses About The Second Coming Of Christ (End Times)
30+ Bible Verses About The Second Coming Of Christ (End Times)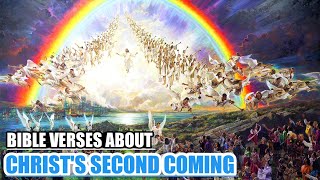 Featuring; 30+ Bible Verses About The Second Coming Of Christ (End Times).
The Second Coming of Jesus Christ, also called Second Advent, is the future return of Jesus Christ in glory, when it is understood that he will set up his kingdom, judge his enemies, and reward the faithful; both living and dead.
Christians believe the Advent to be imminent and most Christian theologians since then, have believed that the visible appearance of Jesus may occur at any moment and that Christians should be ever ready for it.
We believers, find evidence for the Second Coming in the Gospels (Matthew 24–25; Mark 13; Luke 21:5–26; John 14:25–29), in the Book of Revelation, and in other biblical and traditional sources.
Click here to Subscribe:
https://bit.ly/2MbVwsl
+Also Support Me On:
Patreon:
https://www.patreon.com/HOLYWORD
#TodayBibleVerse #BibleVerseToday #endtimes #secondcoming #jesus #endtimes #repent #bible #love #holyspirit #prophecy #faith #rapture #christian #god #worldnews #bibleverses #lastdays #israel #christ #jesusiscoming #bibleverse #raptureready #jesussaves #holytrinity #kingofkings #believe