POPULAR and MEANINGFUL BIBLE VERSES from the BOOK of MATTHEW / TOP VERSES COLLECTION / PART 1
POPULAR and MEANINGFUL BIBLE VERSES from the BOOK of MATTHEW / TOP VERSES COLLECTION / PART 1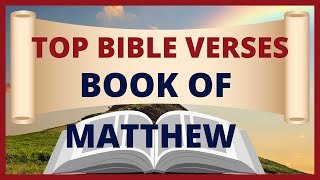 Take time to reflect and meditate upon God's Word.
In your quietness and stillness, you will hear the silent voice of God.
It is my prayer that this book of the law shall not depart from our mouth, but we shall meditate on it day and night, so that we may be careful to do according to all that is written in it; for then we will make our way prosperous, and then we will have success and establish His words in our heart. ( Joshua 1:8 )
God bless us all!
Visit @day&night for more great Bible verses meditation videos.
https://www.youtube.com/channel/UCR0N54GtTwSLG-L-ZlIScSA/videos
Follow us in Facebook:
https://www.facebook.com/meditatedaynight/
Don't FORGET to LIKE, SHARE & SUBSCRIBE if you think @Day&Night would help you and others, to get more closer to God and of his wonderful, powerful, precious Word..