Top 10 Best Bible Verses about Friendship
Top 10 Best Bible Verses about Friendship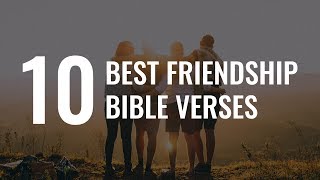 If you want to know what does the Bible say about Friendship, then here are the 10 Best Bible Verses about Friendship from the Old and New Testament of The Holy Bible, King James Version (KJV).
Want to see more friendship Bible verses visit this link here: http://bit.ly/2RtBf2b. We have a collection of more than 60+ friendship Bible verses on that link.
#bible #bibleverse #friendship
—————————————————————————-
Subscribe to Stillfaith:
https://www.youtube.com/channel/UCJZx-Sf7o-Zb6Fsts7lR7lQ?sub_confirmation=1
—————————————————————————-
Connect with Us:
Facebook: https://www.facebook.com/Stillfaithcom
Twitter: https://twitter.com/Stillfaithcom
Pinterest: https://www.pinterest.com/Stillfaithcom
—————————————————————————-
Top 10 Best Bible Verses about Friendship
1.) Proverbs 17:17 KJV
A friend loveth at all times, and a brother is born for adversity.
2.) Proverbs 18:24 KJV
A man that hath friends must shew himself friendly: and there is a friend that sticketh closer than a brother.
3.) Proverbs 27:5-6 KJV
Open rebuke is better than secret love. Faithful are the wounds of a friend; but the kisses of an enemy are deceitful.
4.) Proverbs 27:17 KJV
Iron sharpeneth iron; so a man sharpeneth the countenance of his friend.
5.) John 15:13 KJV
Greater love hath no man than this, that a man lay down his life for his friends.
6.) Proverbs 27:9 KJV
Ointment and perfume rejoice the heart: so doth the sweetness of a man's friend by hearty counsel.
7.) Proverbs 22:11 KJV
He that loveth pureness of heart, for the grace of his lips the king shall be his friend.
8.) Ecclesiastes 4:9-10 KJV
Two are better than one; because they have a good reward for their labour. For if they fall, the one will lift up his fellow: but woe to him that is alone when he falleth; for he hath not another to help him up.
9.) Proverbs 22:24-25 KJV
Make no friendship with an angry man; and with a furious man thou shalt not go: Lest thou learn his ways, and get a snare to thy soul.
10.) Proverbs 13:20 KJV
He that walketh with wise men shall be wise: but a companion of fools shall be destroyed.
—————————————————————————-
For more topical verses visit:
Thanks for watching!
If you like this video, please give it a thumbs up and share it with your friends.
God bless you! 🙂