Bible Verses For Depression | Powerful Scriptures To Overcome Feeling Depressed
Bible Verses For Depression | Powerful Scriptures To Overcome Feeling Depressed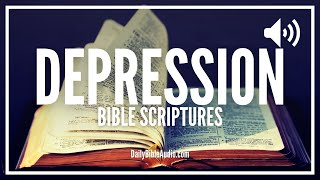 Bible Verses For Depression | Powerful Scriptures To Overcome Feeling Depressed
https://www.dailybibleaudio.com
☑️ SUBSCRIBE and click the 🔔 for notifications to catch all the latest videos uploaded to the channel!
https://www.youtube.com/channel/UCL5xC4sFNGH-u-iBftrPSYA?sub_confirmation=1 👈
☑️ You can SUPPORT and PARTNER with my ministry here (Daily Effective Prayer, Daily Bible Audio, Motivation In Christ):
http://bit.ly/depytsupport 👈
📲 SOCIAL
TWITTER: https://twitter.com/dailybibleaudi1
FACEBOOK: https://www.facebook.com/dailybibleaudio
INSTAGRAM: https://www.instagram.com/dailybibleaudio
Bible Verses For Depression | Powerful Scriptures To Overcome Feeling Depressed | NIV
This is simply a video I've put together where I would like to encourage anyone with the Word of God within the sound of my voice.
You can adjust the speed of the video in the playback settings.
All I ask you to do is to listen to me read the Word of God or turn off the audio and read it for yourself.
Please continue to let God's Word take root in your heart.
Speak God's Word daily or listen to this video over and over again and allow the Scriptures concerning this video topic to reach deep into your spirit.
The NIV Bible is a wonderful work that I have uploaded primarily for myself to be able to play and listen to in the background but also to pass along to others seeking the divine Word of God.
The Bible never, ever fails.
God bless you!
– Daniel (Channel Creator)
✩ Bible Verses To Overcome Depression:
Philippians 4:8
8 Finally, brothers and sisters, whatever is true, whatever is noble, whatever is right, whatever is pure, whatever is lovely, whatever is admirable—if anything is excellent or praiseworthy—think about such things. NIV®
Deuteronomy 31:8
8 The LORD himself goes before you and will be with you; he will never leave you nor forsake you. Do not be afraid; do not be discouraged." NIV®
Psalm 34:17
17 The righteous cry out, and the LORD hears them; he delivers them from all their troubles. NIV®
Psalm 40:1-3
1 I waited patiently for the LORD; he turned to me and heard my cry. 2 He lifted me out of the slimy pit, out of the mud and mire; he set my feet on a rock and gave me a firm place to stand. 3 He put a new song in my mouth, a hymn of praise to our God. Many will see and fear the LORDand put their trust in him. NIV®
Psalm 3:3
3 But you, LORD, are a shield around me, my glory, the One who lifts my head high. NIV®
Psalm 32:10
10 Many are the woes of the wicked, but the LORD's unfailing love surrounds the one who trusts in him. NIV®
Psalm 42:11
11 Why, my soul, are you downcast? Why so disturbed within me? Put your hope in God, for I will yet praise him, my Savior and my God. NIV®
1 Peter 5:6-7
6 Humble yourselves, therefore, under God's mighty hand, that he may lift you up in due time. 7 Cast all your anxiety on him because he cares for you. NIV®
John 16:33
33 "I have told you these things, so that in me you may have peace. In this world you will have trouble. But take heart! I have overcome the world." NIV®
Romans 8:38-39
38 For I am convinced that neither death nor life, neither angels nor demons, neither the present nor the future, nor any powers, 39 neither height nor depth, nor anything else in all creation, will be able to separate us from the love of God that is in Christ Jesus our Lord. NIV®
✩ Watch More Daily Bible Audio Videos Below:
Bible Verses For Loneliness | Scriptures When Feeling Lonely

Bible Verses For Trusting God | Scriptures About Trusting In The Lord

Bible Verses For Worrying | Audio Scriptures About Worry

Bible Verses For Work Stress | Audio Scriptures For Stress Relief At Your Workplace

© Copyright DailyBibleAudio.com
✩ NIV Information / Copyright Information
Scripture quotations marked (NIV®) are taken from the HOLY BIBLE, NEW INTERNATIONAL VERSION ®. NIV®. Copyright © 1973, 1978, 1984, 2011 by Biblica, Inc.®. Used by permission. All rights reserved worldwide.
#bibleverses #scriptures #audiobible #newinternationalversion #nivbible