DIY, Fast & Affordable | How to make Scripture Wall Art using Canva
DIY, Fast & Affordable | How to make Scripture Wall Art using Canva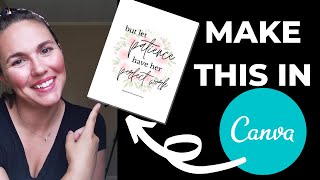 ⚡️ VIDEO SHOW NOTES:: COMING SOON ⚡️
Don't forget you can get this exact PDF for your home by clicking here: https://knittingourstory.ck.page/6c5e9d3930
I hope you enjoyed learning how to create your very own scripture wall art for your home or as a gift for a special someone.
Sign up for Canva Today: https://www.canva.com/join/debt-details-hopeful
//// LINKS ////
⚡️ VIDEO SHOW NOTES:: https://www.knittingourstory.com/how-to-scripture-wall-art-canva-james-14/
⚡️ CANVA SIGN UP (It's FREE):: https://partner.canva.com/c/2024595/619765/10068 ⚡️
(Affiliate)
🙌 SAY HELLO
▶︎ FACEBOOK: https://rebrand.ly/jmv8ukw
▶︎ FB GROUP: https://rebrand.ly/1pb8x9n
▶︎ INSTA: https://rebrand.ly/c991vbe
▶︎ YOUTUBE: https://rebrand.ly/6spc416
🤓 ABOUT Knitting Our Story
Hey there! My name is Holly, and I am the blogger and YouTuber behind KnittingOurStory.com. I help people figure out faith and tech stuff –
1️⃣ I help families create and capture life through effective and efficient use of technology that is always viewed through the lens of faith.
2️⃣ I share a story of hope as the Lord knits it through lifestyle videos that will inspire, encourage, and educate.
Popular Topics on my Channel include:
Video Editing for Beginners
Basic Graphic Design Tutorials
Tips & Tricks for DSLR camera users
Everyday Technology Reviews
Faith Discussions
Bible Studies
Parenting/Lifestyle/Marriage
Visit my blog at KnittingOurStory.com for more, and subscribe to the Knitting Our Story YouTube channel to get new videos from me: https://rebrand.ly/6spc416
CONTACT: Holly [at] knittingourstory [dot] com