Bible Verses On Being Sad | Encouraging Scriptures To Overcome Sadness, Depression, Loneliness
Bible Verses On Being Sad | Encouraging Scriptures To Overcome Sadness, Depression, Loneliness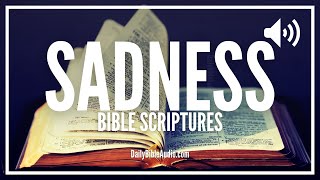 Bible Verses On Being Sad | Encouraging Scriptures To Overcome Sadness, Depression, Loneliness
https://www.dailybibleaudio.com
☑️ SUBSCRIBE and click the 🔔 for notifications to catch all the latest videos uploaded to the channel!
https://www.youtube.com/channel/UCL5xC4sFNGH-u-iBftrPSYA?sub_confirmation=1 👈
☑️ You can SUPPORT and PARTNER with my ministry here (Daily Effective Prayer, Daily Bible Audio, Motivation In Christ):
http://bit.ly/depytsupport 👈
📲 SOCIAL
TWITTER: https://twitter.com/dailybibleaudi1
FACEBOOK: https://www.facebook.com/dailybibleaudio
INSTAGRAM: https://www.instagram.com/dailybibleaudio
Bible Verses On Being Sad | Powerful Scriptures To Overcome Sadness, Depression, Loneliness | KJV
This is simply a video I've put together where I would like to encourage anyone with the Word of God within the sound of my voice.
You can adjust the speed of the video in the playback settings.
All I ask you to do is to listen to me read the Word of God or turn off the audio and read it for yourself.
Please continue to let God's Word take root in your heart.
Speak God's Word daily or listen to this video over and over again and allow the Scriptures concerning this video topic to reach deep into your spirit.
The KJV Bible is a public domain works that I have uploaded primarily for myself to be able to play and listen to in the background but also to pass along to others seeking the divine Word of God.
The Bible never, ever fails.
God bless you!
– Daniel (Channel Creator)
✩ Bible Scripture Verses On Being Sad
And the Lord, he it is that doth go before thee; he will be with thee, he will not fail thee, neither forsake thee: fear not, neither be dismayed.
Deuteronomy 31:8 | KJV
The righteous cry, and the Lord heareth, and delivereth them out of all their troubles. The Lord is nigh unto them that are of a broken heart; and saveth such as be of a contrite spirit.
Psalm 34:17-18 | KJV
Blessed are they that mourn: for they shall be comforted.
Matthew 5:4 | KJV
Casting all your care upon him; for he careth for you.
1 Peter 5:7 | KJV
For his anger endureth but a moment; in his favour is life: weeping may endure for a night, but joy cometh in the morning.
Psalm 30:5 | KJV
For in much wisdom is much grief: and he that increaseth knowledge increaseth sorrow.
Ecclesiastes 1:18 | KJV
Lord, all my desire is before thee; and my groaning is not hid from thee.
Psalm 38:9 | KJV
Therefore remove sorrow from thy heart, and put away evil from thy flesh: for childhood and youth are vanity.
Ecclesiastes 11:10 | KJV
And I heard a great voice out of heaven saying, Behold, the tabernacle of God is with men, and he will dwell with them, and they shall be his people, and God himself shall be with them, and be their God. And God shall wipe away all tears from their eyes; and there shall be no more death, neither sorrow, nor crying, neither shall there be any more pain: for the former things are passed away.
Revelation 21:3-4 | KJV
As sorrowful, yet alway rejoicing; as poor, yet making many rich; as having nothing, and yet possessing all things.
2 Corinthians 6:10 | KJV
Rejoice with them that do rejoice, and weep with them that weep.
Romans 12:15 | KJV
They shall hunger no more, neither thirst any more; neither shall the sun light on them, nor any heat. For the Lamb which is in the midst of the throne shall feed them, and shall lead them unto living fountains of waters: and God shall wipe away all tears from their eyes.
Revelation 7:16-17 | KJV
Therefore also now, saith the Lord, turn ye even to me with all your heart, and with fasting, and with weeping, and with mourning.
Joel 2:12 | KJV
2 Kings 20:5 | KJV
Job 1:20-21 | KJV
✩ Watch More Relaxing Scriptures Below:
Psalm 34 | The Happiness Of Those Who Trust In God | Encouraging Audio Scripture From Psalms

Bible Verses On Being Content | Inspiring Audio Bible Scriptures About Contentment

Psalm 90 | Prayer Of Moses a Man Of God | Powerful Audio Scripture To Start Your Day

© Copyright DailyBibleAudio.com
✩ King James Version Information / Copyright Information
In 1604, King James I of England authorized that a new translation of the Bible into English be started. It was finished in 1611, just 85 years after the first translation of the New Testament into English appeared (Tyndale, 1526). The Authorized Version, or King James Version, quickly became the standard for English-speaking Protestants. Its flowing language and prose rhythm has had a profound influence on the literature of the past 400 years. The King James Version present on this channel matches the 1987 printing. The KJV is public domain in the United States and Canada.
#sadness #loneliness #bibleverses #scriptures#audiobible #kingjamesversion #kjvbible #kjvaudio