Christian Easter Egg Hunt for the Events of the Holy Week – How to Prepare the Activity – FREE
Christian Easter Egg Hunt for the Events of the Holy Week – How to Prepare the Activity – FREE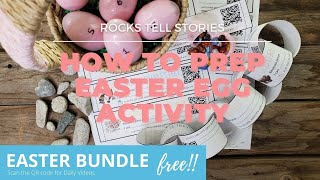 Get your FREE Printable download at https://familystorylife.com/easter
for the Holy Week event chain strips to put into each easter egg for each event of the Holy Week. Or, watch this video to learn what this is all about!:

Get your free ebooks and activity worksheets to quickly learn how to do easy rock art for any age. Created by Patti Rokus, international artist, author, and speaker. Great for homeschooling, youth camps, Primary classes, and free art activities!
More at: www.RocksTellStories.com
Lessons, Books, and Videos of Rock Art
It's so easy to make art with rocks and pebbles. In this art lesson tutorial, kids and adults will learn how to make a DIY piece of rock art.