Spoken Word Poet Simone Davis @ The NYC Open Mic Joint
Spoken Word Poet Simone Davis @ The NYC Open Mic Joint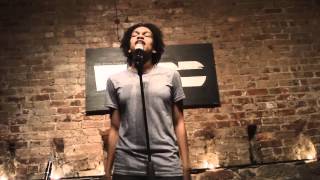 http://inspiredwordnyc.com/
Spoken Word Poet Simone Davis @ The Inspired Word's NYC Open Mic Joint, Monday, July 30, 2012, One and One, Nexus Lounge, Manhattan, New York City. Hosted by Nathan P.
The Inspired Word is one of the country's hottest open mic spoken word poetry/performance series. Produced by longtime journalist and former Village Voice columnist Mike Geffner and hosted by HBO Def Poetry star Gemineye, NYC spoken word legend Nathan P., actor comedian Erica Bradshaw, and poet Aimee Herman, it happens weekly in downtown Manhattan, New York City.
Video by Mike Geffner.
Find The Inspired Word blog @ http://inspiredwordnyc.blogspot.com/ and follow The Inspired Word on Twitter @ https://twitter.com/InspiredWordNYC
Stay Inspired!