3 Signs God Is Telling You To Date Someone- Christian Dating
3 Signs God Is Telling You To Date Someone- Christian Dating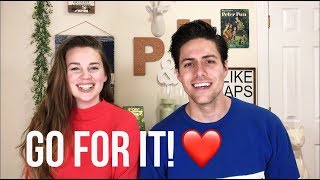 '3 Signs God Is Telling You To Date Someone- Christian Dating'
It's a valid question that so many of us ask ourselves.. 'Should I date this person?' Or 'Is this the guy/girl God has for me?' Well, we think God has ways of letting us know if He's blessing the relationship.
These are just three signs we decided we'd share because they really stood out to us and some even happened to us personally. We know there are many more as God speaks in lots of ways. And some signs that work for us or others might not work for you. And that's okay. God works in all kinds of ways!
Share a way He has revealed something to you in the comments below. Enjoy this Christian Dating Advice 🙂 Much love!
GO WATCH👇'5 Signs God Is Warning You Not To Date Someone'

Video title idea by ApplyGodsWord.com
Thanks for being part of the P&M Fam!!
Join our PATREON!⭐️
https://www.patreon.com/paulandmorganshow
👚Paul and Morgan MERCH IS HERE!👕
http://Paulandmorganshow.com
Give a thumbs up if you enjoyed the vid! 🐈
Please Subscribe!
https://www.youtube.com/channel/UC2onDBgc2-ewYzaFnqEs86Q
WATCH MORE! 👇
LOVE AND RELATIONSHIPS: https://www.youtube.com/playlist?list=PL0m7jgqKY4gdhUyUUvIkQdSGQBt2md04s
CONTROVERSIAL TOPICS

GET TO KNOW US: https://www.youtube.com/playlist?list=PL0m7jgqKY4geCXg9DhVbgyHviy1gEc_J8
PHYSICAL BOUNDARIES IN DATING:https://www.youtube.com/playlist?list=PL0m7jgqKY4gcW3IutXdNKo4CezE1494ed
Follow us on other sites!
Instagram:
https://www.instagram.com/paulolliges/
https://www.instagram.com/morganolliges
Paul and Morgan Instagram:
https://www.instagram.com/paulandmorgan/
Facebook:
https://m.facebook.com/paulandmorganshow/
Twitter:
https://mobile.twitter.com/PaulOlliges
https://mobile.twitter.com/MorganOlliges
Business Inquiries:
Paulandmorganshow@gmail.com