ENCOURAGING SCRIPTURES WITH MUSIC (8 HOURS) | KJV Bible Verses For Sleep, Peace, Protection
ENCOURAGING SCRIPTURES WITH MUSIC (8 HOURS) | KJV Bible Verses For Sleep, Peace, Protection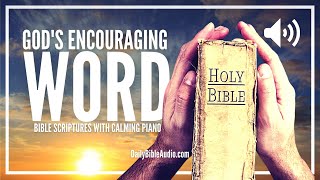 ENCOURAGING SCRIPTURES WITH MUSIC (8 HOURS) | KJV Bible Verses For Sleep, Peace, Protection (SOAKING SCRIPTURE VERSES)
https://www.dailybibleaudio.com
This encouraging Bible verses for sleep with music video is comprised of 8 hours of encouraging scriptures for deep and restful sleep. These blessed and encouraging Bible verses are calmly read aloud in order that you can allow God's Word to settle in your heart as you sleep. ❤️
☑️ SUBSCRIBE and click the 🔔 for notifications to catch all the latest videos uploaded to the channel!
https://www.youtube.com/channel/UCL5xC4sFNGH-u-iBftrPSYA?sub_confirmation=1 👈
☑️ You can SUPPORT and PARTNER with my ministry here (Daily Effective Prayer, Daily Bible Audio, Motivation In Christ):
http://bit.ly/depytsupport 👈
📲 SOCIAL
TWITTER: https://twitter.com/dailybibleaudi1
FACEBOOK: https://www.facebook.com/dailybibleaudio
INSTAGRAM: https://www.instagram.com/dailybibleaudio
SOAKING SCRIPTURES WITH MUSIC (8 HOURS) | Bible Verses For Sleep, Peace, Protection
I have looped these Bible verses into a Christian audio scripture meditation video, to help you memorize the verses and take them to heart.
Please let these powerful encouraging verses dwell in your heart richly, renew your mind, and transform you more and more into the image of Jesus Christ.
All I ask you to do is to listen to me read the Word of God.
Please continue to let God's Word take root in your heart.
Speak God's Word daily or listen to this video over and over again and allow the Scriptures concerning this video topic to reach deep into your spirit.
The KJV Bible is a public domain works that I have uploaded primarily for myself to be able to play and listen to in the background but also to pass along to others seeking the divine Word of God.
The Bible never, ever fails.
God bless you!
– Daniel (Channel Creator)
✩ Bible Scriptures For Encouragement and Rest
Wherefore comfort yourselves together, and edify one another, even as also ye do.
1 Thessalonians 5:11
But they that wait upon the Lord
shall renew their strength;
they shall mount up with wings as eagles;
they shall run, and not be weary;
and they shall walk, and not faint.
Isaiah 40:31
When thou passest through the waters,
I will be with thee;
and through the rivers,
they shall not overflow thee:
when thou walkest through the fire,
thou shalt not be burned;
neither shall the flame kindle upon thee.
Isaiah 43:2
Have not I commanded thee? Be strong and of a good courage; be not afraid, neither be thou dismayed: for the Lord thy God is with thee whithersoever thou goest.
Joshua 1:9
And the Lord, he it is that doth go before thee; he will be with thee, he will not fail thee, neither forsake thee: fear not, neither be dismayed.
Deuteronomy 31:8
Blessed be God, even the Father of our Lord Jesus Christ, the Father of mercies, and the God of all comfort; Who comforteth us in all our tribulation, that we may be able to comfort them which are in any trouble, by the comfort wherewith we ourselves are comforted of God.
2 Corinthians 1:3-4
Come unto me, all ye that labour and are heavy laden, and I will give you rest.
Matthew 11:28
Therefore, my beloved brethren, be ye stedfast, unmoveable, always abounding in the work of the Lord, forasmuch as ye know that your labour is not in vain in the Lord.
1 Corinthians 15:58
I will lift up mine eyes unto the hills,
from whence cometh my help.
My help cometh from the Lord,
which made heaven and earth.
Psalm 121:1-2
Hebrews 10:24-25
Psalm 32:8
Psalm 31:24
John 16:33
1 Corinthians 16:13
Proverbs 14:23
Psalm 23:4
Isaiah 43:4
John 14:27
2 Corinthians 4:17
Romans 8:31
Romans 15:5
Psalm 90:17
Romans 15:2
✩ Watch More Powerful Bible Verses Videos Below:
GUIDANCE SCRIPTURES | God's Daily Direction Bible Verses For Sleep and Encouragement

GOD'S PROMISES FOR SLEEP (With Rain 4 HOURS) | Gods Promises Bible Verses For Encouragement

PEACE OF MIND SCRIPTURES (8 HOURS) | Encouraging Bible Verses For Sleep With God's Word On

© Copyright DailyBibleAudio.com
✩ King James Version Information / Copyright Information
In 1604, King James I of England authorized that a new translation of the Bible into English be started. It was finished in 1611, just 85 years after the first translation of the New Testament into English appeared (Tyndale, 1526). The Authorized Version, or King James Version, quickly became the standard for English-speaking Protestants. Its flowing language and prose rhythm has had a profound influence on the literature of the past 400 years. The King James Version present on this channel matches the 1987 printing. The KJV is public domain in the United States and Canada.
#bibleversesforsleep #scriptures #jesuschrist #bibleverses #bible #audiobible #kingjamesversion #kjvbible #kjvaudio