DO NOT BE ANXIOUS | Bible Study | Psalm 37
DO NOT BE ANXIOUS | Bible Study | Psalm 37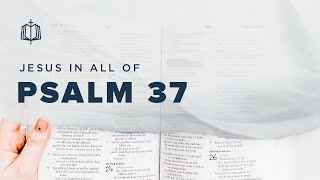 This Bible study devotional covers Psalm 37. This psalm is an extended meditation of Psalm 1. In Psalm 1, those who love God's word are like sturdy trees. But Psalm 37 places alongside this fact that sometimes the wicked are often like sturdy trees too.
As always, we are committed to showing you how to see the good news of the Gospel in every passage of Scripture. In Psalm 37, we see that while the wicked might prosper for a time, it's only the righteous who will live forever. Jesus' faithfulness to death is proof of God's faithfulness to us and his determination to never see the righteous forsaken.
—
About Spoken Gospel:
Spoken Gospel is a non-profit digital media ministry committed to fostering transformative Bible engagement by producing creative videos that help people see and savor the good news of Jesus on every page of the Bible. We are wanting to make introduction videos for every book of the Bible using spoken word poetry to tell the story.
Website: https://www.SpokenGospel.com
Podcast: https://www.SpokenGospelPodcast.com
Donate: https://www.SpokenGospel.com/donate
Follow us:
https://instagram.com/SpokenGospel
Tweets by HeySpokenGospel
https://facebook.com/SpokenGospel
Subscribe: https://youtube.com/SpokenGospel
#BibleDevotional #Expository #BookOfPsalms