What are the biblical solutions for solving marriage problems? | GotQuestions.org
What are the biblical solutions for solving marriage problems? | GotQuestions.org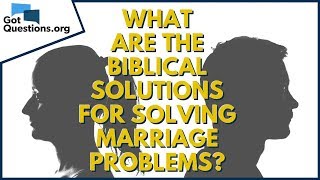 Are you experiencing marriage problems? Looking for tips for a healthy marriage, or what to do if you are in a loveless marriage or unhappy marriage? Divorce should not be the go-to answer. Marriage help and marriage advice from friends and family can be useful but knowing what the Bible says about marriage, and solving marriage problems is invaluable. This is where biblical Christian counseling is key. With biblical counseling, and good bible study on marriage, God's truth provides hope for any marriage. In this video, Pastor Nelson with Bible Munch answers the question, "What are the biblical solutions for solving marriage problems?".
*** Check out, Bible Munch!
https://www.youtube.com/BibleMunch
*** Recent Bible Munch Videos:
John 3:16 – What the most popular Bible verse REALLY means.

Jeremiah 29:11 – God's Plan – What is God's Plan for my Life?

2 Chronicles 7:14 – If my people who are called by my name…

*** Source Article:
https://www.gotquestions.org/solving-marriage-problems.html
*** Recommended Book:
Sacred Marriage, Revised Edition
By: Gary Thomas
https://bit.ly/2QtlDdA
*** Related Questions:
What does the Bible say about an unhappy marriage?
https://www.gotquestions.org/unhappy-marriage.html
How should a Christian respond to being in a loveless marriage?
https://www.gotquestions.org/loveless-marriage.html
How does one handle conflict in a marriage?
https://www.gotquestions.org/marriage-conflict.html
Intro/Outro Music: http://www.purple-planet.com
Note: Some links are affiliate links which cost you nothing, but help us share the word of God.