The Passion of the Christ 2 "Resurrection" (2023) Trailer #2 – Mel Gibson, Jim Caviezel (Fan Made)
The Passion of the Christ 2 "Resurrection" (2023) Trailer #2 – Mel Gibson, Jim Caviezel (Fan Made)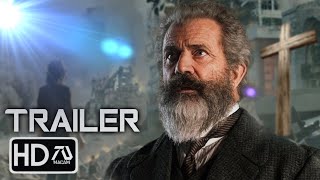 2,000 years ago the Messiah has resurrected, and proclaimed to return someday to fulfill the prophecy written in the books of Revelation. Gabriel Davis (Mel Gibson) a biblical scholar and his daughter Angela Davis (Chloe Moretz) finds a way to survive the upcoming apocalypses.
Join MacamTV Max to get access to perks:
https://www.youtube.com/channel/UCj8gILpOgOIX6k3NExdky9Q/join
Hey guys, for those that didn't catch the reminder in the title and in the beginning (green screen), this video is 100% FAKE, or fan-made, concept trailer. I don't intend to clickbait. This was created for entertainment and fans, in hopes that it will come true!
►Why call them Dream Trailers?
The focus is to make the experience of the viewer fresh, as if they are watching the real thing. In essence, they are not just random clips put together, but a form of art, with the goal of creating a new story or idea.
►MacamTV's Purpose
My mission for the channel is to lead a community that have passion to bring dream movies to life. And my dream trailers becomes an inspiration to them and a constant reminder to stay dreaming in hopes that it will become a reality.
►Thanks to every channel Members and Patrons!
ArtByGlend | Attila Berecz | AM Corp | Arezwan Mutiar | Antoinette Stewart | Amar Milano | Amanda Hoyos E. | Brian Haske | Bangpaul | Carlos Henrique Silva Henrique | Cori Sharp | Chl Tat | Däster Sandra | Danielle Moore | Desmond Crook | David Wallace | Gary Vicente Moya Morante | Jazmyn | Jacqueline Castañeda Grijalba | James Jones | Joe Garcia | Jose Luna | KamfreetoTV | Lady Ronny | Lynn Queen | Lorra Williams | Mo2-X | Mumu Muhaemin | Mitsuo YoshimuraOndřej Pacek | Phil Paul | Rhonda Klyn | Ronald Harvey | Tuco Lopez | Tracy Chance | Ullyses R | Willie Hull |
———————————————————————————
Editing Details:
I'm glad I decided to make another trailer since the success of the first trailer reaching over 1m views, because it turns out this will be one of my favorite. Since many did not like The Rock as lead character I made Mel instead. I wanted their names to have a meaning so Mel's character name is Gabriel Davis, Gabriel in Hebrew means " Devoted to God, a hero of God, God is my strength." Reference to how strong he is living in the end times. Davis means "beloved" or "favourite". Lastly Angela means "Messenger of God", how he role will be to spread the good news. Since the announcement of Passion 2 I made couple trailers translating my vision for the upcoming film. A blockbuster Jesus second coming film is my ultimate dream movie because its never been done before. What is great about knowing nothing about the upcoming film beside the title "Resurrection" is I get to bring Mel Gibson playing the lead character and Chloe Moretz as his daughter.
There is a lot in this trailer as you can tell by the length. The start we get to see Mel Gibson with the Bible (clip of him from Fatman and the Bible was from an unboxing video) Right away we get to see Jesus resurrection clip from SON OF GOD film. "The savior of the world is here" I voiceover. The wordings I customized made it epic with "His message was love" similar to the trailer of Passion but then I added "The greatest love of all". My goal is to make this concept based in the last days events of Revelation. "Followers of Christ" line from PAUL APOSTLE OF CHRIST.
I put clips from BATMAN V SUPERMAN of "False God's" to foreshadow the anti-Christ. Then with the help of clip from TV Show MESSIAH we get the devil pretending to be Jesus with scene from LUCIFER. Then we get the "Chip" lines from THE MARK 2 REDEMPTION and RUMORS OF W4RS, and made Mel Gibson to be talking to Chloe. "The Biggest Film in Worlds History" was actually a quote from Jim Caviesel in an interview I thought was perfect here. The music was the challenging part to find, thankfully I found BATMAN V SUPERMAN trailer music to be the perfect choice since it brings the EPIC and DRAMATIC feel I was looking for.
VIDEO CREDITS | BOSS LEVEL (2021) | GREENLAND | GEOSTORM | FATMAN (2020) | PAUL APOSTLE OF CHRIST | LUCIFER SEASON 3 & 3 | MESSIAH TV SHOW | SON OF GOD | HUMBLE LAMB NKJV SHEPERD BIBLE BY BIBLE BELIEVING CHRISTIAN | BATMAN V SUPERMAN | THE MARK 2: REDEMPTION | RUMORS OF W4RS | THIS IS THE END | MOTHER ANDRIOD (2021) | THE 5TH WAVE (2016) | BLOOD FATHER (2016) | DADDY'S HOME 2 (2017)
MUSIC CREDITS | BATMAN V SUPERMAN COMICON TRAILER MUSIC VERSION
————————————————————————
Please don't re-upload any of my videos, or needed actions will be done.
Copyright Disclaimer Under Section 107 of the Copyright Act 1976, allowance is made for "fair use" for purposes such as criticism, comment, news reporting, teaching, scholarship, and research. Fair use is a use permitted by copyright statute that might otherwise be infringing. Non-profit, educational or personal use tips the balance in favor of fair use.