Christian Event – (Stand Up Comedy)
Christian Event – (Stand Up Comedy)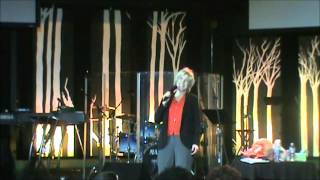 Stand Up Comedian and Speaker for Women. The very funny keynote speaker, Sally Edwards, delivers Mother Goose nursery rhymes and you'll never be able to read them with a straight face again!
http://laughtogoodhealth.com
Funny Female Christian Comedian and funny Keynote Speaker, Sally Edwards will make your event a success with her squeaky-clean humorous stories and hilarious stand-up comedy. Sally's funny clean comedy leaves her audiences teary-eyed. Sally Edwards knows the thrill of being a funny comedic speaker and performing clean and very funny family-based comedy.
A favorite humorous speaker of corporate events professional clean female Christian Comedian and funny Keynote Speaker, Sally Edwards, began her humor training at Chicago's "Second City" under the direction of the legendary Del Close ("Saturday Night Live"). Excelling at funny keynote interactive performance Sally Edwards pursued a solo comedy career after many successful performances at Navy Pier, The Victory Gardens Theater and Harper College and Zanies Comedy Club. Sally's clean humor and high energy presentations have been featured on Showtime and the A&E Network. Sally Edwards was the only talent chosen to appear on Showtime's Humor Network three times. Television appearances also include "Chicagoing" and ABC and WGN morning television.