Miracles – Colton Dixon (Lyrics)
Miracles – Colton Dixon (Lyrics)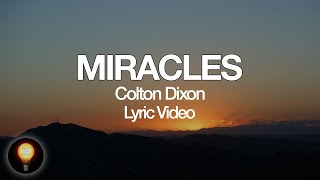 Miracles – Colton Dixon Lyrics
Single: Miracles Lyrics
Subscribe to Light of the World: https://bit.ly/Christian_worship
If you want to listen to more worship songs: https://bit.ly/LightoftheWorld2020
Miracles Lyrics:
Ninety miles on the highway
Every day moving so fast
Taking all the wrong ways out
Never saw you coming
Stopping me in my tracks
Keeping me from the long way down
Doesn't matter just how many times I tried
There could only be a single reason why
So tell me
How do miracles just happen like that
Happen like that, happen like that
You can see the stars align but
I know that it's more than timing
How do miracles just happen like that
Happen like that, happen like that
Right before I hit the ground some
How You came along and found me
Ooh, ooh
Right before I hit the ground some
How You came along and found me
Some will say it's magic
But I know that You did all that
You're the reason, there's no doubt
Doesn't matter just how many times I tried
There could only be a single reason why
So tell me
How do miracles just happen like that
Happen like that, happen like that
You can see the stars align but
I know that it's more than timing
How do miracles just happen like that
Happen like that, happen like that
Right before I hit the ground some
How You came along and found me
Ooh, ooh
Right before I hit the ground some
How You came along and found me
There's no doubt when I feel Your love
Call me crazy and out of touch
But I know that it's from above
Tell me
How do miracles just happen like that
Happen like that, happen like that
You can see the stars align but
I know that it's more than timing
How do miracles just happen like that
Happen like that, happen like that
Right before I hit the ground some
How You came along and found me
Ooh, ooh
You can see the stars align but
I know that it's more than timing
Ooh, ooh
Right before I hit the ground some
How You came along and found me
—————————————-­—————————————-­—
Connect with Colton Dixon:
Facebook | https://facebook.com/coltondixonmusic
Twitter | https://twitter.com/coltondixon
Instagram | http://instagram.com/coltondixonmusic/
Spotify | https://open.spotify.com/artist/52oVYHQ99ORZzeig2YGo4R
Apple Music | https://music.apple.com/us/artist/colton-dixon/508624868
Soundcloud | https://soundcloud.com/colton-dixon-official
—————————————-­—————————————-­—
Hey guys!
Welcome to this channel! I hope that just like the name of this channel, we can be a light of the world in wherever God has placed us.
I do my best to release new worship lyric videos every day and it is my hope and prayer that the videos will edify personal and corporate worship. May you experience God's presence through the videos!
"Let everything that has breath praise the Lord. Praise the Lord." Psalm 150:6
Leave your testimonies or prayer points in the comment section! If you were blessed by the videos, do like and subscribe to the channel so that you will be updated with the latest videos!
God bless you!
#ColtonDixon #Miracles #lightoftheworld