777 Charlie Trailer – Telugu | Rakshit Shetty | Kiranraj K | Paramvah Studios | Suresh Productions
777 Charlie Trailer – Telugu | Rakshit Shetty | Kiranraj K | Paramvah Studios | Suresh Productions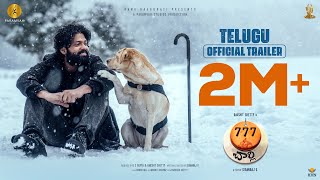 Watch : 777 Charlie Trailer – Telugu | Rakshit Shetty | Kiranraj K | Paramvah Studios | Suresh Productions
Here is the official Telugu trailer of the upcoming movie, a Paramvah Studios production, 777 Charlie starring Charlie, Rakshit Shetty, Sangeetha Sringeri, Raj B Shetty, Bobby Simha and Danish Sait amongst others. The film is written and directed by Kiranraj K, presented by Rana Daggubati, produced by GS Gupta and Rakshit Shetty.
777 Charlie's official trailer covers a blink of all that the film is going to offer. It is a scurry through the beautiful saga of Dharma and his dearest Charlie.
777 Charlie Worldwide Release On 10 June 2022
👉👉 https://dcraf.com
All that you would like to explore and know about the movie 777 Charlie –
👉👉 https://bit.ly/777Charlie-BMS
Like us on Facebook: https://www.facebook.com/777charlie
Follow us on
Instagram: https://instagram.com/777charliemovie
Twitter: https://twitter.com/777CharlieMovie
Website: http://www.777charlie.com
Starring: Charlie, Rakshit Shetty, Sangeetha Sringeri, Raj B Shetty, Danish Sait, Bobby Simha and others.
Produced By: G S Gupta and Rakshit Shetty
Presented By: Rana Daggubati (Suresh Productions)
Written & Directed By: Kiranraj K
Music and Background Score: Nobin Paul
DOP: Arvind S Kashyap
Editor: Pratheek Shetty
Dialogues: K N Vijayakumar
Lyrics: Battu Vijay Kumar,Poorna Chary, Nagarjun Sharma, Anirudh Shandilya Maramraju, Saiesh Poi Panandikar, Alexis D'Souza
Trailer Music Credits:-
Music: Nobin Paul
Vocals : Aarna Shetty 
Violin and Cello Solos: Rithu Vysakh
Clarinet : Nadhan
Flutes : Josy Alapuzha 
Brass : Maxwell Rajan 
Music Programmed & Arranged by: Nobin Paul 
Strings Arranged by : Rithu Vysakh
Conductor : B Yensone 
Strings Performed by : Chennai Strings 
Trailer Mixing : M R Rajakrishnan  
Sound Design : OLI Sound Labs 
Music Premix : Balu Thankachen 
Costume Designer: Pragathi Rishab Shetty
Production Designer: Ullas Hydoor
Stunts: Vikram Mor
Audiography: M R Rajakrishnan
Dubbing: Suresh Guna
Supervising Producer: Krishna Banerjee
Executive Producers: Binay Khandelwal, Sudhee D S
Canine Trainer: Pramod B C
Production Manager: Shashidhara B , Rajesh K S
P.R.O: Vamsi Kaka
Colorist: Remesh CP
Trailer Colourist: Remesh CP
Sound Effects: Oli Sound Labs
Online Editor: Rakshit Kaup
Direction Team: Sharath Mallesh, Sourabh A K, Nimisha Kannath, Karthik Vattikuti, Damini Dhanraj, Prasad Kanteerava, Nithin Ramachandra, Rakshit Kaup, Varun Bhat, Anirudh Mahesh
Posters: Kreative Crew (Adarsh Mohandas)
VFX Creative Head: Sachin B Ravi
VFX Supervisor: Rahul V Gopalakrishnan
VFX: Pinaka Studios
Marketing: Shraman Jain, Sindhura TP
Digital Promotions: Haashtag Media
Visual Promotions: Rakesh Shetty, Manoj Vhr
Digitally Powered By: Creative Guyz
#777Charlie #777CharlieTrailer #777CharlieOnJune10 #RakshitShetty #RanaDaggubati #ParamvahStudios #SureshProductions #777CharlieTeluguTrailer #KiranrajK #SangeethaSringeri
———————————–
Suresh Productions (Telugu: సురేష్ ప్రొడక్షన్స్) is a film production company, a subsidiary of Rama Naidu Studios, founded by Dr. D. Ramanaidu. The production house of the company is Ramanaidu Studios which is located at Hyderabad. Suresh Productions, is one of India's largest film production companies with over 50 years of contribution to national and regional cinema.
► Subscribe : http://bit.ly/SureshProSubscribe
► Like : https://www.facebook.com/SureshProductions/
► Follow : https://twitter.com/SureshProdns