The Bible Timeline: the 4 Major time periods in Scripture
The Bible Timeline: the 4 Major time periods in Scripture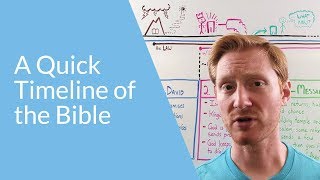 The Bible covers a long history of the nation of Israel and the beginnings of the Christian movement. It can be tough to wrap your mind around the 2,000+ year saga that the Bible tells, but fortunately for us, Matthew gave us a good way to break it down.
The New Testament begins by splitting the Old Testament events into roughly three chapters (Matthew 1:17), and beginning a new era. These chapters are still useful for understanding the Bible's timeline today.
This whiteboard video will give you a feel for the overall timeline of the Bible by breaking biblical history down into four simple chapters:
1. Abraham to David
2. David to the Babylonian exile
3. Exile to Messiah
4. The age of the Messiah, or "These last days" as some New Testament writers put it.
You can see the whole whiteboard at: https://overviewbible.com/timeline/
You can support OverviewBible on Patreon: https://www.patreon.com/overviewbible