"The Unexpected Jesus" – Nigel Reid (Power Church 27 Mar. 2022)
"The Unexpected Jesus" – Nigel Reid (Power Church 27 Mar. 2022)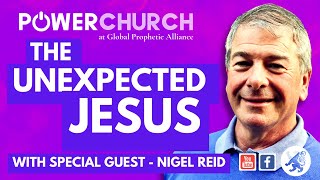 "The Unexpected Jesus" – Power Church is delighted to welcome Irish apostle Nigel Reid as our special guest this Sunday. Join POWER CHURCH live from Glasgow, Scotland on 27 March 2022. Service leader Emma Stark, worship led by Ali McFarlane.
Find out more about Power Church services at: https://www.propheticscots.com/events-training/
Subscribe to our channel to see when we go live: https://bit.ly/3xHCrzK
Each week we live stream our weekly POWER CHURCH worship service here on this channel at around 10.30am UTC+1* If you are planning to attend in person, scroll down for more details.
*Find the live broadcast time in your nation at: https://bit.ly/3iDHtJw
PLEASE SUPPORT US BY MAKING A GIFT
=============================
Please consider making a gift to our non-profit charity so that we can offer even more resources like these by making a one-off or regular gift offering.
To donate, please visit: https://www.propheticscots.com/give
To buy merch. books and resources: https://www.propheticscots.com/shop
For more about Emma Stark: https://www.propheticscots.com/about/emma-stark
Facebook: https://facebook.com/glasgowpropheticcentre
Instagram: https://instagram.com/glasgowpropheticcentre
YouTube: https://www.youtube.com/user/propheticscots
CONSIDERING VISITING IN PERSON?
=============================
Considering attending a POWER CHURCH Sunday worship service? Please note that we are currently renting temporary accomodation with limited capacity, and facilities. Also, due to current Scottish Government policy, facemasks should be worn. But if you're OK with all of that, you are very welcome! You will find us at Toryglen Parish Church 26 Glenmore Ave, Glasgow, G42 0EH. Tea and Coffee served at 10:00 am and service begins at 10:30 am. If you have children we do have classes for them after worship. Everyone is in service for corporate worship at the beginning. We hope to see you soon!
=============================
#prophecy #prophet #prophesy #prophetic #healing #freedom #deliverance #Jesus #Bible #Biblical #Emma Stark #spiritualgifts #HolySpirit #charismatic #pentecostal #prophets #power #miracles #signs #wonders #Christ #church #love #teaching #sermon #Sunday #kingdom #kingdomvalues