END TIME PROPHESIES | Bible Study | Matthew 24-25
END TIME PROPHESIES | Bible Study | Matthew 24-25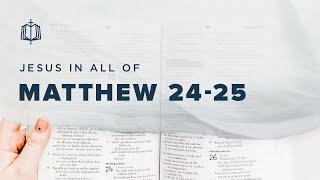 This Bible study devotional covers Matthew chapters 24-25. In this passage we read about Jesus' prediction about the temple's destruction which, for his Jewish followers, would have been equated to the end of the world. Also, woven into this discussion are Jesus' commands on how we should act knowing his return, at the end of the age, is imminent.
As always, we are committed to showing you how to see the good news of the Gospel in every passage of Scripture. In Matthew 24-25, we see that because Jesus could predict the destruction of the temple because when the temple of his body was destroyed on the cross he made an earthly temple unnecessary. We are now the temple of God, inhabited by the Holy Spirit.
—
About Spoken Gospel:
Spoken Gospel is a non-profit digital media ministry committed to fostering transformative Bible engagement by producing creative videos that help people see and savor the good news of Jesus on every page of the Bible. We are wanting to make introduction videos for every book of the Bible using spoken word poetry to tell the story.
Website: http://www.SpokenGospel.com
Podcast: https://www.SpokenGospelPodcast.com
Donate: http://www.SpokenGospel.com/donate
Follow us:
https://instagram.com/SpokenGospel
Tweets by HeySpokenGospel
https://facebook.com/SpokenGospel
Subscribe: https://youtube.com/SpokenGospel
#BibleDevotional #Expository #BookOfMatthew