What does God say about REGRET
What does God say about REGRET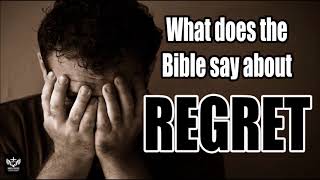 All Christians have experienced the feeling of regret. It's a normal temptation to look back and say…. "if only…. "
Many pause to think back on life, and many times regret over things we cannot change can creep in.
So what does the Bible say about regrets? How should Christians deal with this common issue?
Please support us by liking & commenting on the video! Don't forget to Subscribe if you haven't already. Make sure you hit the notification bell & you will know each time we upload a new video! You can find many more videos on our YouTube Channel!
Soli Deo Gloria!
www.rfcdover.com
Facebook: reformedfellowshipchurch
Twitter: @RFC_Church
Instagram: reformedfellowshipchurch
Email: reformedfellowshipchurchdover@gmail.com
@Reformed Fellowship Church
#colossians #reformed #onlinebiblestudy #learnthebible #unity #Christianlove #Blindlove #biblicalknowledge #discernment #heresy