Depressed, marriage failing & hopeless – God has not forgotten you
Depressed, marriage failing & hopeless – God has not forgotten you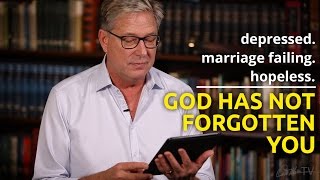 Struggles in this life are real. What do you do when you're marriage is crumbling, your family is in strife and you feel depressed and lonely? Be encouraged today. Do you have a question that you want Don to answer? Ask it at http://bit.ly/1NSH1nm. New videos posted every week! Subscribe today so you never miss a video: http://bit.ly/1In0KIP. Watch our full playlist to see what other questions Don answers: http://bit.ly/29YSDEE
Anne asks:
"Hi Don, I am a backslider. I watched one of your concerts in the Philippines, until now I feel light when I listen to your songs. But I stopped attending church and stopped reading the Bible. My life seemed lonely, I am not happy, my marriage is falling apart – like there's no love, trust and respect anymore… I have 3 beautiful kids (all boys). I have sinned, I'm confused, I'm depressed, like I feel there's no hope. I wanted to attend Christian church again, so my family will be complete again. I don't know how to start my faith with the Lord, but I do know I'm thirsting for God's healing and love. Please help me Don. Touch and heal me and my husband. Question is, after all the hurts and pains, and fights, and traumas, will God still be there to heal and save us? Myself, my family, my marriage – how will He do this? Thank you so much."
What is the Ask Don video series?
Ever wanted to ask Don a question? Now's your chance! With this new video series, Don is answering questions from around the world on a variety of topics including worship leading, songwriting, Christianity and more. Do you have a question? Go to http://bit.ly/1NSH1nm today to ask Don!
Follow Don Moen:
Facebook: https://www.facebook.com/DonMoenMusic
Twitter: https://twitter.com/DonMoen/
Instagram: https://instagram.com/DonMoen/
YouTube: https://www.youtube.com/c/donmoentv
Listen To Don Moen On:
iTunes: http://apple.co/1ShZMyN
Spotify: https://play.spotify.com/user/donmoen
About DonMoenTV:
DonMoenTV is the best place to find new music and videos straight from Don Moen. New videos are uploaded every week! Subscribe today so you never miss a video: http://bit.ly/1H8INgP
At DonMoenTV, we're focused on bringing encouraging and uplifting videos straight to you. Subscribe above to receive words of encouragement, new worship music playlists, as well as live worship videos from Don Moen.
By subscribing to DonMoenTV, you gain access to Don Moen's 30+ years of experience in the Gospel Music Industry. We post weekly training videos to equip worshipers worldwide with resources to deepen their gift. Worship Leaders, Musicians, Churches, Vocalists, Sound Engineers and Worshipers are all welcome here. Subscribe above so you never miss a video!
Interesting in purchasing products? Head over to DonMoen.com for more resources.