My *Funny* Online Dating Experience (Christian dating advice)
My *Funny* Online Dating Experience (Christian dating advice)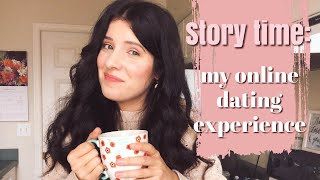 Hey friends! Today I'm sharing about my silly as well as eye opening experience with online dating. So sit back and relax for story time. I hope you feel like we are just friends chatting in this video.
Where to find me:
Instagram: https://www.instagram.com/mollys.story/
My podcast: https://podcasts.apple.com/us/podcast/mondays-with-molly/id1459280202
Email: contactmollysstory@gmail.com
My mission:
I encourage women through YouTube videos to reject the cultural norms of our time and find fulfillment in Jesus Christ + share style, beauty, and homemaking.
Want to support my YouTube channel? I would love to have you partner with me in what I do here! Click the link below:
https://www.patreon.com/mollysstory?fan_landing=true